Should Minnesota adopt a new state flag? Some lawmakers think so
ST. PAUL, Minn. (FOX 9) - For more than six decades, a royal blue flag with a gold fringe has represented Minnesota, but there are state lawmakers who feel it's time for a change.
"The Minnesota message must be timeless, it must use traditional colors and symbols, and it must be unifying," said Sen. Mary Kunesh, DFL-New Brighton.
Minnesota's state flag was adopted by the 1957 legislature. There's an effort at the state Capitol to redesign the flag and state seal.
A proposal, which was discussed Thursday in a Senate committee, would create a redesign commission. Kunesh, the bill's author, said the seal currently depicts a white settler taking possession of the land while a Native American rides on a horse in the background.
"We are supposed to be proud of our state symbol, and it's hard to be proud of a seal that seems to say our indigenous people are not wanted in their own state," Kunesh said.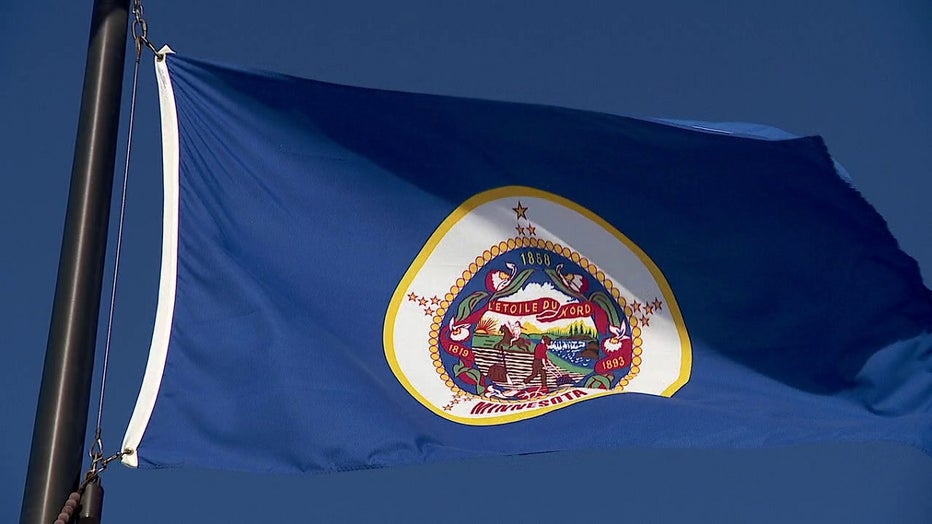 Changes could be coming for Minnesota's state flag. (FOX 9)
The North American Vexillological Association, a group made up of flag enthusiasts and scholars, ranked Minnesota's flag as one of the top ten worst among the U.S. and Canada in 2001.
The association said the best flags follow these five principles: keep it simple, use meaningful symbolism, use two-three basic colors, no lettering or seals, be distinctive, and be related.
During the hearing, Sen. Steve Drazkowski, R-Mazeppa, offered his own design, but it was quickly shot down in committee.
"If you take a look at it, it depicts the north star – the North Star State, which Minnesota is," he said.
Similar bills introduced over the years have failed to pass. A point of contention Thursday centered around who should get to weigh in what the flag looks like.
The redesign group would have lawmakers from both parties, stakeholders, residents and a member of each of the following minority group councils: the Council for Minnesotans of African Heritage, Minnesota Council on Latino Affairs, Council on Asian-Pacific Minnesotans, Dakota community and Ojibwe community.
Republicans questioned whether that would accurately represent the state's makeup.
"(Tt) leaves about 83 percent of our population that's not being represented on this board specifically. We'd have nobody from the German community, the Irish community. We have pretty big Polish caucus here – no one from the Polish community," said Sen. John Jasinski, R-Faribault.
The new designs would be adopted no later than mid-May 2025 under the bill. The proposal advanced out of one committee Thursday and is on to another.