Hydration foods: What to eat to beat the summer heat
(FOX 9) - With hot and humid temperatures to start the summer so far in Minnesota, Chef Marshall O'Brien of Taste Success spoke with FOX 9 about hydration foods that can help beat the heat.
You can watch the segment above, and below are three recipes to consider for your next meal or gathering.
Tomato, Cucumber & Quinoa Salad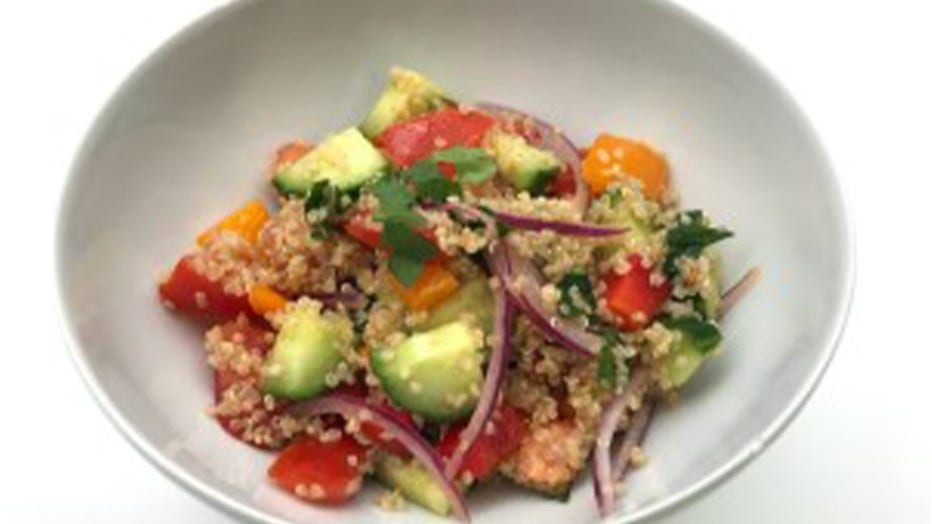 Tomato, Cucumber and Quinoa Salad
Serves 4
Salad Ingredients:
2 cups dry quinoa, or other favorite grain or pasta
2 cups ripe tomatoes, chopped
2 cups cucumbers, peeled and chopped
1 cup bell pepper, any color, or a combination, cored, seeded, and chopped
1⁄2 cup red onion, thinly sliced
1 tablespoon fresh mint, chopped
2 tablespoons fresh parsley, chopped
Dressing Ingredients:
1⁄4 cup olive oil
2 tablespoons fresh lemon juice, or to taste 
Salt and pepper to taste
Cook quinoa according to package directions; allow to cool. Mix the grain or pasta with the tomatoes, cucumber, bell pepper, red onion, mint and parsley. Thoroughly combine the olive oil, lemon juice, salt and pepper for the dressing. Toss the salad with the dressing and let marinate in the refrigerator for one hour. Adjust seasoning and amount of dressing to desired taste and texture.
Prosciutto-Wrapped Cantaloupe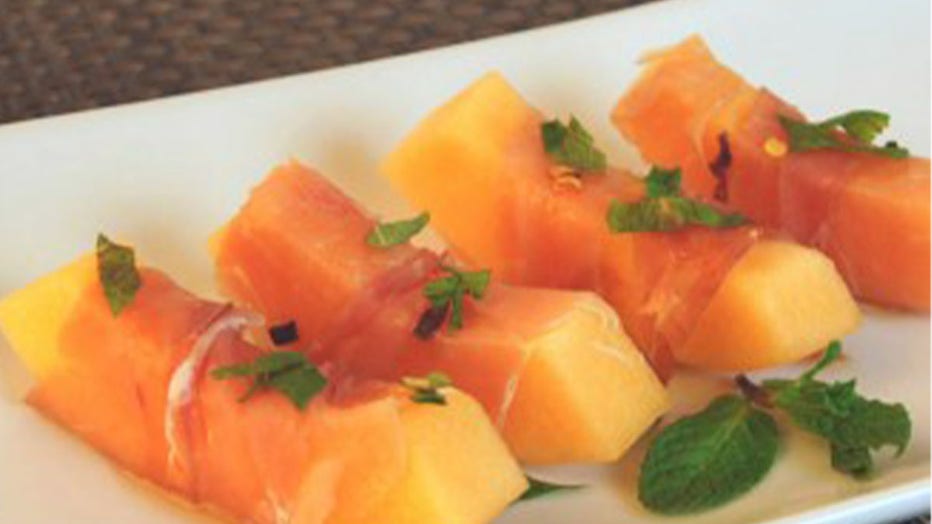 Prosciutto-Wrapped Cantaloupe
4 servings
Ingredients:
1 teaspoon red pepper flakes
1/4 cup honey
1 large ripe cantaloupe, cut into 3-inch pieces
3 ounces prosciutto, thinly sliced, cut in half 
lengthwise
1/4 cup fresh mint leaves, thinly sliced
Toothpicks or wood skewers
Combine red pepper flakes and honey in a small saucepan; bring to a simmer and turn off heat, or heat in the microwave on high for 20-30 seconds. Wrap cantaloupe pieces with prosciutto; place a toothpick in each cantaloupe piece. Place cantaloupe on a platter; drizzle with the chili-infused honey and garnish with fresh mint leaves.
Cabbage Salad with Ginger-Miso Dressing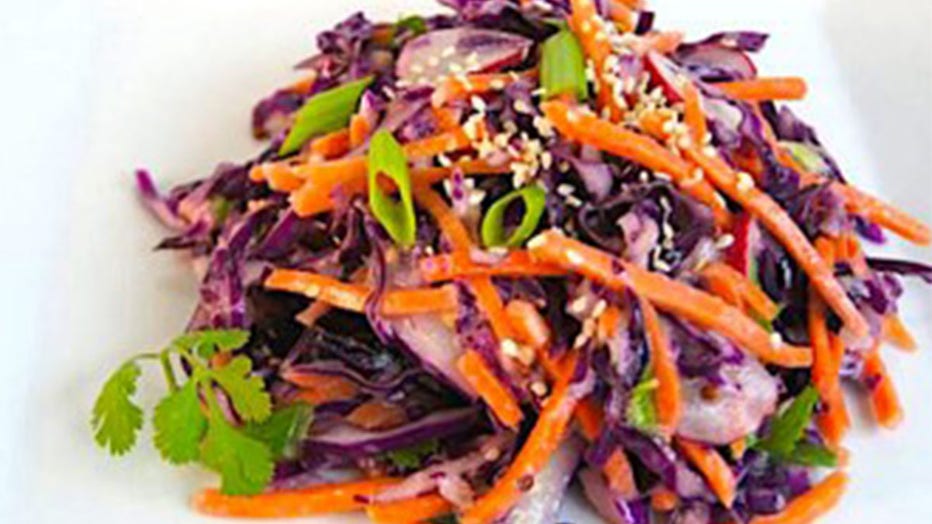 Cabbage Salad with Ginger-Miso Dressing
Serves 4
Ingredients:
4 tablespoons Miso paste *see note
1 tablespoon ginger finely minced
1 tablespoon honey
2 tablespoons rice vinegar
1 tablespoon whole grain mustard
1/4 cup olive oil
4 cups red cabbage shredded, about 1/2 head
2 cups shredded carrots
1/2 cup radishes thinly sliced
1/4 cup green onions cut on the bias in thin slices
1/4 cup fresh cilantro
2 teaspoons sesame seeds toasted
To make the ginger-miso dressing, combine miso, ginger, honey, vinegar, mustard and oil in a small jar or bowl with an airtight lid. Shake or whisk vigorously until well-mixed. Combine cabbage, carrots, radishes, onions and cilantro and toss with the dressing. Let marinate at room temperature for at least 15-20 minutes, stirring occasionally. Top with sesame seeds before serving. Note: Miso paste is made from fermented soybeans with salt, sometimes with barley or rice malt. It is used for Japanese cooking in sauces, spreads, pickling vegetables or meats, and soups. It is usually found in the ethnic foods or produce aisle of larger grocery stores.