Hormel suspends pork supplier after undercover video release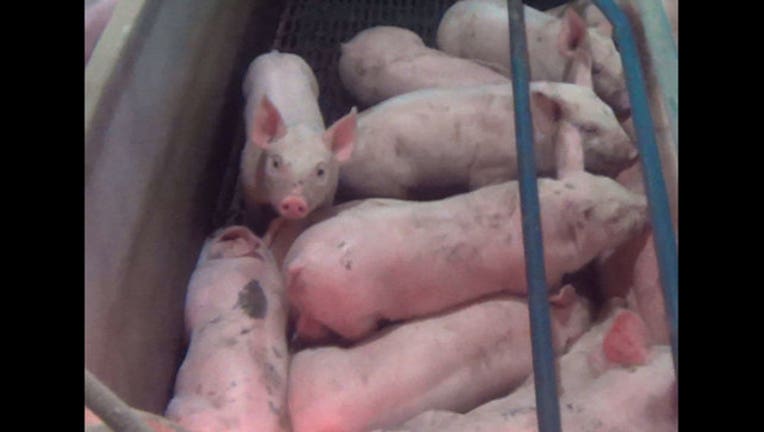 article
MINNEAPOLIS (KMSP) - Hormel Foods announced it has suspended operations at one of its pork suppliers after animal rights activists released undercover video of alleged animal abuse at an Oklahoma pig farm.
Mercy For Animals released their hidden-camera video on Tuesday in Minneapolis. The group says their undercover investigators found the following examples of "appalling abuse" at the Maschhoffs facility:
- Piglets having their tails cut off and testicles removed without any pain relief.
- Mother pigs suffering from injuries and illnesses held in "filthy" gestation crates, unable to turn around or lie down.
- Pigs repeatedly biting the bars of their pens – "a sign of serious mental collapse."
- Piglets trampling each other in overcrowded hallways.
You can watch the undercover video from Mercy for Animals at https://www.youtube.com/watch?v=QrOB8DsxLMI (WARNING: GRAPHIC CONTENT)
Mercy For Animals called on Austin, Minnesota-based Hormel to immediately adopt the following changes throughout its supply chain:
- Installing live-stream cameras to deter abuse.
- Prohibiting the "extreme confinement" of pigs in gestation and farrowing crates.
- Ending "painful and unnecessary" mutilations, such as castration and tail docking, without pain relief.
Statement from Hormel Foods
"Today, Hormel Foods was made aware of an undercover video taken at a Maschhoffs farm. This farm is a supplier to numerous large food companies, including Hormel Foods. Animal stewardship, including the care and humane treatment of animals, is one of our most important values. Hormel Foods has a strict supplier code of conduct and policies relating to animal care and welfare. We will not tolerate any violation of these policies. As such, we have issued a suspension of all the Maschhoffs, LLC Oklahoma sow operations while a thorough investigation is completed. 
"Hormel Foods Corporation has also dispatched certified third-party auditors to these Oklahoma farms and to additional Maschhoffs sites to verify our animal care requirements are being adhered to. We expect, and have been assured, that the Maschhoffs, LLC will cooperate with the investigation.
"As it relates to the use of gestation crates, Hormel Foods had made a commitment that its company-owned farm will be gestation crate free by 2018. We are pleased to report that this conversion will be completed in the next 30 days. In addition, a key part of our Animal Welfare Advisory Council's charter is to understand and recommend animal welfare procedures and practices that are in the best interest of the animals. This group will continue to look closely at all industry practices for opportunities for continuous improvement. We have a shared goal in this regard."