Highway 62 in Minneapolis reopens after fatal crash
MINNEAPOLIS, Minn. (FOX 9) - Highway 62 in both directions was closed between Minnesota 77 and 34th Avenue on Monday morning following a fatal crash and a second crash involving a squad car and fire truck.
Preliminary information from the Minnesota State Patrol shows a Chevrolet Silverado was traveling eastbound on Highway 62 when the driver entered the ditch and collided with the bridge pillar at 34th Avenue around 3:23 a.m.
 The driver, a 34-year-old from Texas, suffered life-threatening injuries, while his passenger — a 21-year-old from Como, Colorado — was killed in the crash. They both had to be extricated from the vehicle.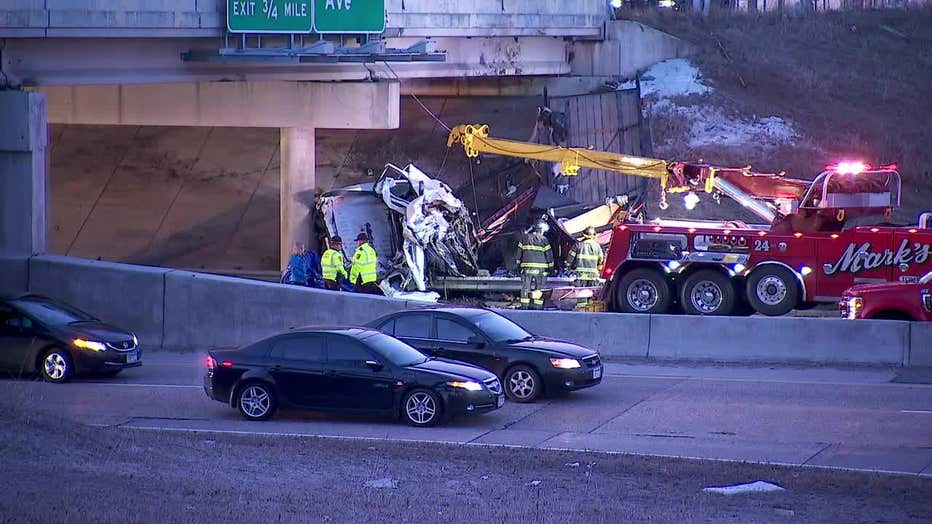 A fatal crash closed Highway 62 Monday morning.  (FOX 9)
Additionally, there was another crash in the area at about 3:28 a.m. A state patrol squad car hit a Minneapolis fire truck on Highway 62 at 34th Avenue. Both drivers suffered minor injuries. Minnesota State Patrol says both vehicles had their emergency lights on at the time of the crash. 
The Minneapolis Fire Department in a statement said the ladder truck was turning around at a turnabout for emergency vehicles when the driver got in a crash with a State Trooper. The fire truck had to be towed. 
The investigation is ongoing. The Minnesota State Patrol says alcohol is believed to have been a factor in the fatal crash. 
The Minnesota Department of Transportation says eastbound Highway 62 will be closed through 11 a.m.