Guilty plea in massive Twin Cities cell phone theft ring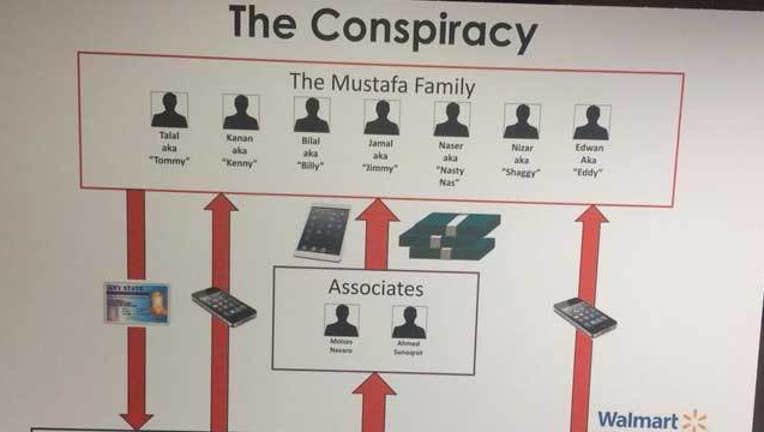 article
Brothers Talal and Edwan Mustafa pleaded guilty on Monday to conspiracy to commit interstate transport of stolen goods and making false claims to the IRS after the U.S. Attorney's Office in Minneapolis indicted 20 members of the Mustafa Family crime syndicate for allegedly using thousands of stolen identities to steal cell phones and tablets worth millions of dollars this summer. 
No sentencing date has been set and they could serve up to 10 years in prison and a $175,000 fine. Talal and Edwan Mustafa are two of seven at the top of the crime ring, federal investigators said. 

More than 300 police officers served 23 search warrants at homes and businesses across the Twin Cities metro in August. University of Minnesota Police Chief Greg Hestness said the takedown was at the core of the U's "Apple picking" cell phone theft wave.
Some of the runners operated only in Minnesota, but others traveled to Arizona, Idaho, Illinois, Iowa, North Dakota, Utah and Wisconsin to obtain devices, with all expenses paid by the organization. One runner was arrested in Utah in 2013 with more than 80 fake IDs and stolen IDs that were used to open lines of credit at various stores to purchase phones and tablets.

'Apple picking' at the U
"Last fall a wave of robberies targeted University of Minnesota students and their cell phones in campus area neighborhoods," Hestness said. "Officers of the University of Minnesota Police Department worked literally thousands of hours in robbery suppression, and we saw results. However, without addressing the underlying criminal enterprise creating a market for these phones, we were not doing everything possible to protect our students

FOX 9 INVESTIGATORS: Apple picking, global market
Mustafa Family storefronts
The Mustafa family owned 13 wireless stores in the Twin Cities metro, where they knowingly purchased stolen phones and tablets.
- 5176 Central Ave. NE, Columbia Heights
- 2145 Lowry Ave., Minneapolis
- 2130A E. Lake Street, Minneapolis
- 2106 E. Lake Street, Minneapolis
- 827 W. Broadway Ave., Minneapolis
- 931 W. Broadway Ave., Minneapolis
- 523 W. Broadway Ave., Minneapolis
- 1506 W. Broadway Ave., Minneapolis
- 2503 Central Ave. NE, Minneapolis
- 4088 Lakeland Ave. N., Robbinsdale
- 605 University Ave. W., St. Paul
- 476 Lexington Pkwy N., St. Paul