Fire causes extensive damage to Northfield's historic Archer House River Inn
NORTHFIELD, Minn. (FOX 9) - The historic Archer House River Inn in Northfield, Minnesota was damaged as flames ripped through the hotel in a Thursday night fire that extended into the early hours of Friday.
The inn has been a community staple for decades but now portions of the structure have now been reduced to rubble.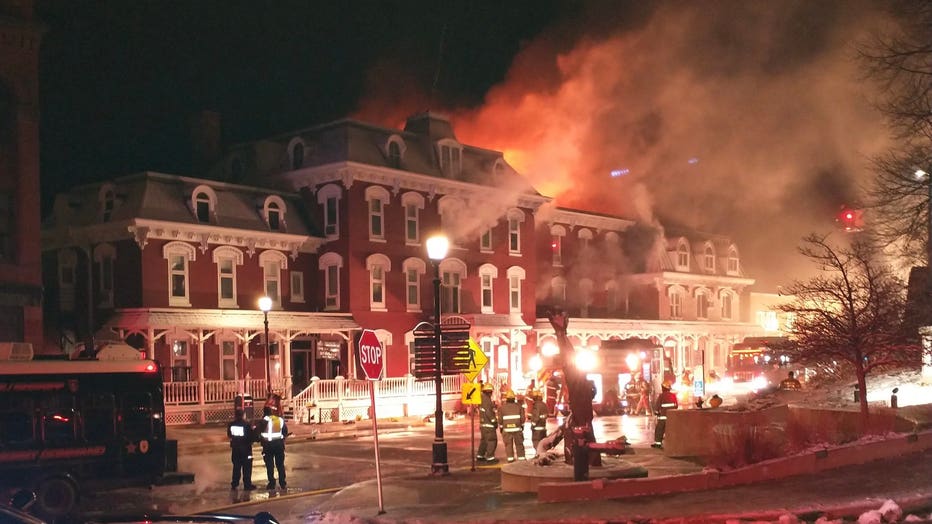 This photo from Chuck Benson shows flames shooting from the Archer House Inn in Northfield, Minnesota. (Chuck Benson / Supplied)
"We started here yesterday at about 3:30 p.m. and we're still on the scene now," said Northfield Fire Chief Gerry Franek early Friday morning.
By Friday morning, fire crews were still putting out hotspots after flames swept through the Archer House River Inn in downtown Northfield.
"We spent a lot of time here, and a lot of effort from our people," said Chief Franek.
The blaze, originating in the kitchen of a restaurant, spread to the four-story hotel. No one was seriously hurt in the fire. But while parts of the structure remain standing, the damage is extensive.
"So the fire ran in chases and vertical runways in the building up into areas where we couldn't see the fire," the chief said.
"It has to be the most dominant building in downtown Northfield," said longtime resident Richard Jenson.
Sitting on the banks of the Canon River, the boutique hotel, which had recently undergone renovations, has been part of the downtown Northfield landscape for more than 140 years.
"We are all just in shock and just devastated for our town, it's heartbreaking," said Northfield Area Chamber of Commerce and Tourism President Lisa Peterson.
Peterson says the hotel was a community staple.
"A lot of the parents from Carleton and St. Olaf, the parents will stay at the hotel, the four years that the children are in school so it's a very popular place," said Peterson.
For now, its future is unclear.
"It will leave a big hole in our hotels once tourism comes back to what it used to be," added Peterson. "And then as well as our downtown as a hotel."
The middle section of the four-story structure saw the most damage but there's no word yet if the building is a total loss.