Fifth police officer charged in Tyre Nichols death out on bond
MEMPHIS, Tenn. - The fifth former police officer charged in the beating death of Tyre Nichols death is out on bond. 
Demetrius Haley, 30, posted bond after he was still in jail on Jan. 27, FOX News reported last week. 
The other four officers — Justin Smith, Desmond Mills Jr., Emmitt Martin III, and Tadarrius Bean — were released on bond not long after being booked into the Shelby County Jail last week, WREG-TV in Tennessee reported Jan. 28. 
RELATED: 6th Memphis police officer involved in Tyre Nichols investigation relieved of duty
Haley, Smith, Mills Jr., Martin III, and Bean were fired and charged with second-degree murder and other alleged offenses stemming from the arrest, the Associated Press reported. They face up to 60 years in prison if convicted of second-degree murder.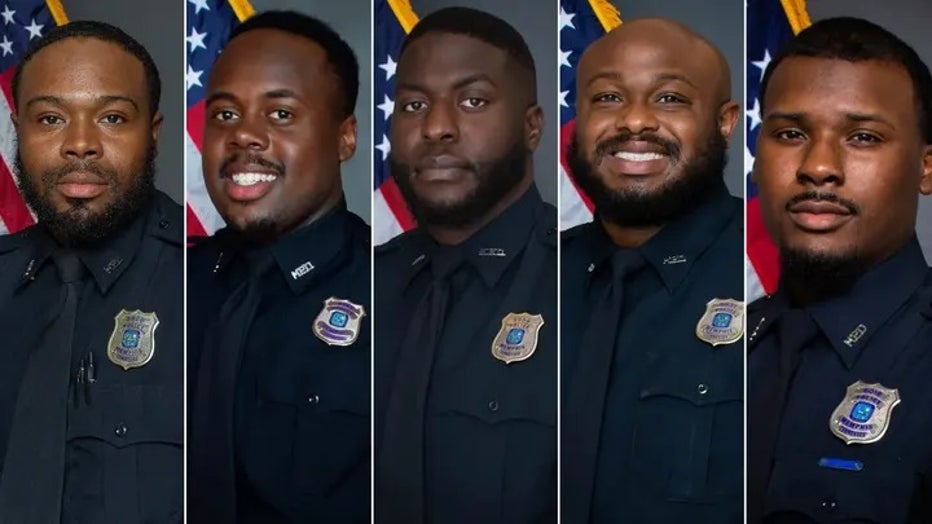 Memphis Police Department Officers Demetrius Haley, Tadarrius Bean, Emmitt Martin III, Desmond Mills and Justin Smith were terminated on Jan. 18 for their role in the arrest of deceased Tyre Nichols. (Memphis Police Department) 
Demetrius Haley allegedly attacked inmate in 2015
Haley, who previously worked as a corrections officer, allegedly beat an inmate in 2015. Citing a 2016 lawsuit, the New York Post reported that Cordarlrius Sledge, an ex-inmate, accused Haley of beating him inside the Shelby County Division of Corrections on May 16, 2015.
RELATED: Tyre Nichols: 5 police officers fired after Memphis man's arrest, death
Court documents obtained by the New York Post state Haley and another officer punched Sledge in the face during a search for a cell phone. Sledge accused a third guard of slamming him face-first into a sink.
According to the New York Post, Haley denied in court papers that he assaulted Sledge. The lawsuit was dismissed after Sledge failed to provide the court with the requested information.
A sixth Memphis cop involved in Tyre Nichols investigation relieved of duty
A sixth Memphis Police Department officer has been disciplined for his involvement in the brutal beating and arrest of Tyre Nichols, the Associated Press reported Monday. 
Officer Preston Hemphill was relieved of duty shortly after the Jan. 7 arrest of Nichols, who died three days later at a hospital, Memphis police spokeswoman Karen Rudolph said. She did not disclose Hemphill's role in the arrest.
In addition to the five officers, who talked for several minutes as Nichols sat on the ground in obvious pain, two Shelby County sheriff's deputies have been relieved of duty without pay while their conduct is investigated. And, two Memphis Fire Department workers were also removed from duty over Nichols' arrest.
RELATED: Tyre Nichols: What we know about his death and the Memphis officers charged with murder
The officers involved in Nichols' death were part of the now-shuttered Scorpion unit, which consisted of roughly 30 officers whose stated aim was to target violent offenders in high-crime areas. 
Scorpion stands for Street Crimes Operations to Restore Peace In Our Neighborhoods, the Associated Press reported.
Video showed the officers viciously beating Nichols, a FedEx worker, for three minutes while screaming profanities at him. Nichols called out for his mother before his limp body was propped against a squad car and the officers exchange fist-bumps.
The Memphis police chief has called the actions of five officers involved in the violent arrest of Nichols "heinous, reckless and inhumane" and urged residents of the predominantly Black city to protest peacefully when video is released.
The Associated Press contributed to this report. This story was reported from Washington, D.C.