Female trailblazers in STEM get their own Barbie dolls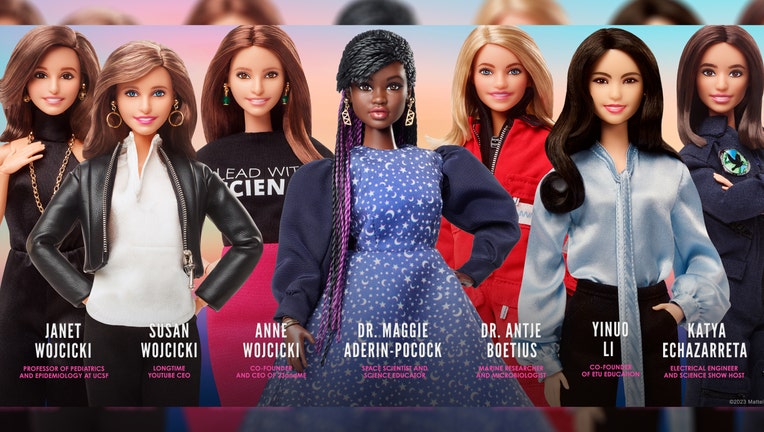 article
EL SEGUNDO, Calif. - On International Women's Day, Barbie is honoring several notable leaders in the STEM field with one-of-a-kind dolls made in their likeness – including the longtime CEO of YouTube and the co-founder and CEO of genetic testing company 23andMe.
Careers in STEM, an acronym for science, technology, engineering, and math, have increased in recent decades and make up nearly half of the U.S. workforce, according to the U.S. Census Bureau. But women are still vastly underrepresented in these fields and only represented 27% of STEM workers as of 2019.
RELATED: Women's History Month 2023 celebrates 'women who tell our stories'
Mattel, which announced the launch of the new lineup of seven dolls this week, noted how "seeing is believing" and that access to successful female role models in STEM "is essential for children to build and maintain an interest in the industry."
"Barbie is dedicated to showcasing women who are role models from all backgrounds, professions, and nationalities so that girls around the world can see themselves in careers that might not always seem as accessible," Lisa McKnight, Mattel's executive vice president and global head of Barbie & dolls, said in a statement. 
Among the lineup of new STEM role models include three sisters from the United States – Susan, Anne, and Janet Wojcicki. Susan was the longtime CEO of YouTube, Anne is an entrepreneur who co-founded and serves as CEO of 23andMe, while Janet is a professor of pediatrics and epidemiology at the University of California San Francisco.
Other women being honored with one-of-a-kind Barbie dolls made in their likeness include:
Katya Echazarreta (Mexico): Electrical Engineer and Science Show Host
Dr Maggie Aderin-Pocock (United Kingdom): Space Scientist and Science Educator
Prof Dr Antje Boetius (DE): Marine Researcher and Microbiologist
Yinuo Li (China): Co-Founder of ETU Education
"It feels surreal that my family's stories might interest and impact the lives of girls worldwide. My sisters were some of my strongest role models growing up and we all built careers based on our interest in STEM," Anne Wojcicki said in a statement. "Our parents fostered independence and a belief that we could truly be anything we wanted to be when I grew up, but most important was to pursue a passion."
She added: "I'm honored to celebrate International Women's Day this year with Barbie alongside my family and these other powerful women in STEM leadership roles. I hope that sharing our stories encourages young girls to try something new, face something that may scare them, and look at challenges as exciting opportunities."
Barbie worked with Susan Wojcicki on a YouTube-produced custom "Short" content, Mattel said. In the video, Susan answers questions on empowerment and shares the lessons she's learned along the way to becoming a top tech CEO.
Barbie will also pay tribute to the global role models through a special episode of the "Barbie You Can Be Anything Series" – a digital series featuring conversations with female role models, including Anne Wojcicki, who shares the fun of science, genetics, and DNA with kids from the Boys and Girls Club.
Janet Wojcicki said she struggled to find inspiring stories of other women excelling in STEM – particularly in epidemiology – when she first started her career. 
 "I have been impressed with the increasing global relevance of Barbies for girls from all communities and seen firsthand through my work the relevance of Barbie for sub-Saharan African and Latinx girls," Janet Wojcicki said. "I'm honored to serve as a Barbie role model this year and help children worldwide see women in places that they might want to be in one day."
RELATED: World marks International Women's Day but abuses, inequality still rampant
This story was reported from Cincinnati.