10 Gophers football players suspended indefinitely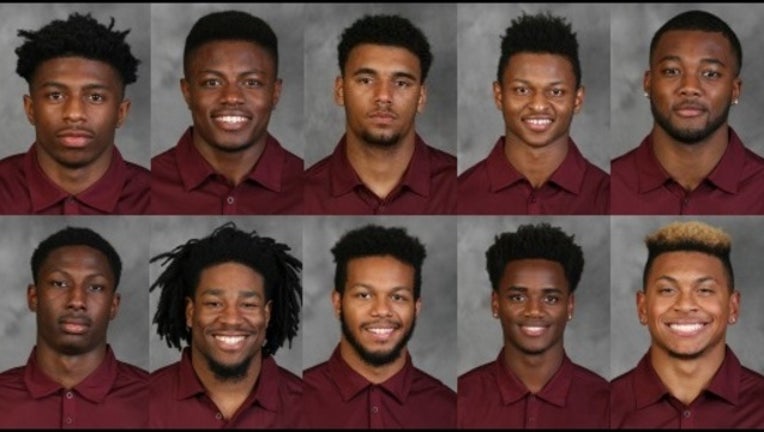 article
MINNEAPOLIS (KMSP) - Ten University of Minnesota Gophers football players have been suspended indefinitely from all team activities, according to a university official.
The players are: redshirt freshman Ray Buford, redshirt sophomore running back Carlton Djam, freshman quarterback Seth Green, sophomore defensive back KiAnte Hardin, redshirt freshman defensive back Dior Johnson, freshman defensive lineman Tamarion Johnson, junior running back Kobe McCrary, sophomore defensive back Antonio Shenault, freshman quarterback Mark Williams and freshman defensive back Antoine Winfield Jr.
The university would not comment further, citing privacy restrictions.
Hardin, Buford, Dior Johnson and Tamarion Johnson were suspended earlier this season for violating team rules.
Five of the players (Hardin, Buford, Dior Johnson, Tamarion Johnson, and Djam) also were served restraining orders earlier this year that kept them from playing home games. The restraining orders were ultimately dismissed in an agreement.
Lee Hutton, the attorney representing the players, told Fox 9 the suspensions are the result of a decision made by a single university investigator as part of a Title IX investigation. He said he believes the accuser was shown to be unreliable, noting the accuser pleaded the fifth in a related restraining order hearing.
In a strong statement, Hutton told Fox 9 his disappointment of the decision to suspend the players:
"I'm pissed by the decision. Tomorrow, I will be filing an appeal on behalf of all the Gophers players involved, including the five new ones. In addition, we may also seek judicial intervention to stay the University's punishment until a judicial decision is made on the merits."
The Gophers are set to play Washington State in the Holiday Bowl on Dec. 27.