Minnesota weather: More snow on the way
MINNEAPOLIS (FOX 9) - A weak system is passing through Minnesota on Wednesday, ahead of the possibility of more snow Thursday and Friday.
Wednesday's system could bring some snowflakes to the Twin Cities that would be enough to wet the ground a little bit by the afternoon, but nothing major. This same system is bringing light accumulating snow to northwestern Minnesota on Wednesday.
Wednesday's high will be around 35 degrees in the Twin Cities, slightly cooler but still above freezing for much of the rest of the state. It'll be quiet overnight.
Winter storm watch downgraded for Thursday-Friday
A winter storm watch has been downgraded to a winter weather advisory for Thursday afternoon into Friday morning as the storm has shifted south, so accumulations won't be as high in the Twin Cities.
Despite the storm shifting south, a few inches of snow (possibly in the 4-inch range) are still possible in the Twin Cities metro — just nothing huge — especially along and south of Interstate 94. 
The bull's eye for higher snow totals is expected in extreme southeastern Minnesota, southern sections of Wisconsin and Iowa.
The snow rolls in during the afternoon hours, which could slow down the afternoon commute on Thursday.
Thursday's high will be around 35 degrees by lunchtime.
The snow will taper off by Friday morning.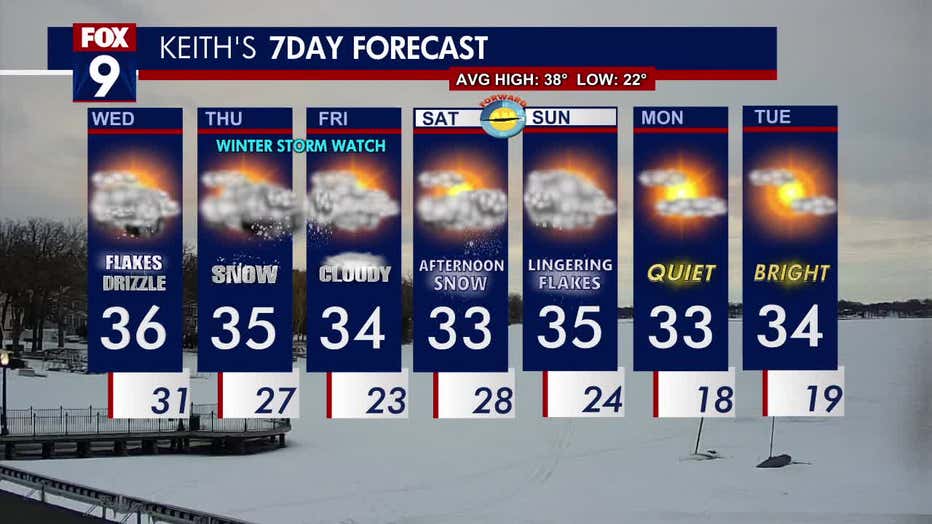 The seven-day forecast. (FOX 9)