Minnesota weather: Cold and blustery Saturday before warmer temperatures next week
(FOX 9) - The cooler temperatures will stick around for the weekend as Saturday is some 20 degrees below average for this time of year. But Spring and warmer weather are right around the corner. 
The start of the weekend will be cold and windy with highs in the 20s on Saturday and feels like temperatures closer to around 10 degrees. A few flurries could linger throughout the day as cloud coverage will be heavy in the morning but thin out as the day goes on. By late afternoon there should be partly cloudy skies with the sunshine peaking through. 
Temperatures will drop overnight to the single digits with feels like temperatures below zero. However, temperatures will warm up on Sunday as the winds shift out of the southwest, bringing along the warmer air with it. Sunday will have highs in the mid 30s with spots of sunshine. 
Seasonable temperatures will return during the week ahead as Spring officially arrives on Monday. But, with Spring comes a chance of mixed precipitation for parts of the week, but temperatures should remain mild around 40 degrees.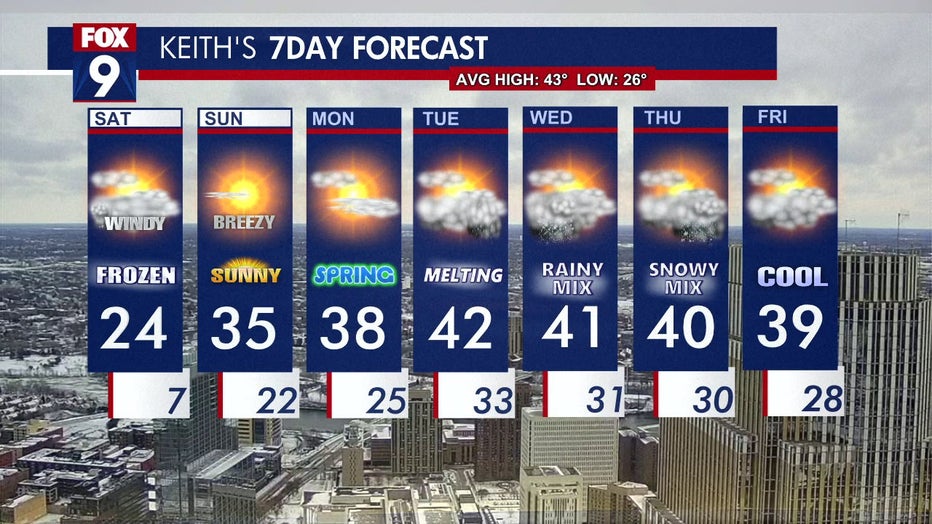 Take a look at your seven-day forecast