Tornado in west central Minnesota, late night lightning in Twin Cities
(FOX 9) - Storms developed in western Minnesota and tracked east toward the Twin Cities on Sunday night, with threats of tornadoes, damaging winds and very large hail. A slow-down in the speed of this storm delayed the arrival in the Twin Cities metro until the 10 p.m. hour.
Tornado in west central Minnesota
At 8 p.m. Sunday, a tornado touched down near Prinsburg, 16 miles southwest of Willmar, moving east at 20 mph.
Lightning in the metro
Marginally strong storms tracked across the Twin Cities metro after 10:30 p.m., putting on a lightning show.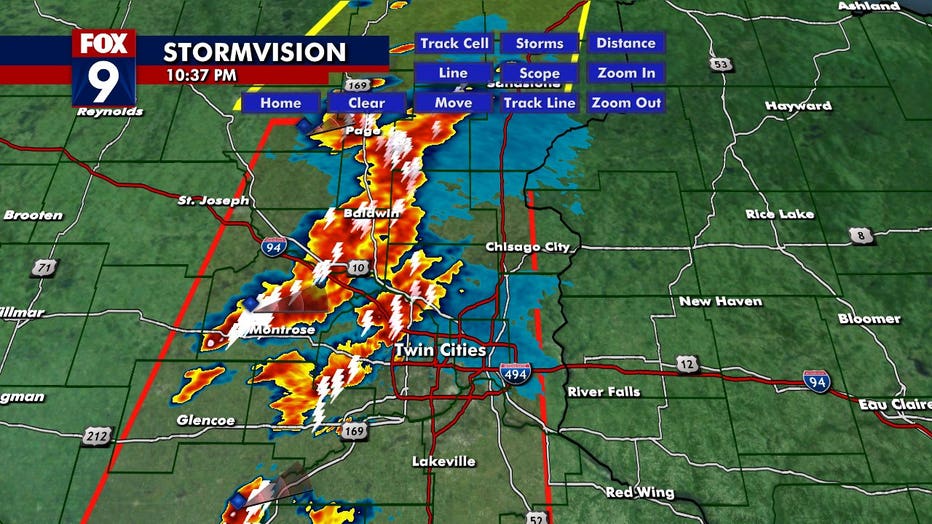 Lightning in the Twin Cities metro during Aug. 28, 2022 thunderstorms
5 tornadoes Saturday
The National Weather Service has confirmed 5 tornadoes touched down in the Twin Cities metro Saturday night. 
A tornado in Ramsey County had a rating of EF0, with estimated peak winds of 75 mph. NWS meteorologists calculated that it traveled for 3.4 miles, with a path that took it from southeast I-94 and Highway 10, through the Eastview neighborhood in St. Paul, close to Harding High School, before it ended near the Goodrich Golf Course.  
Four additional EF-0 tornadoes briefly touched down in Burnsville, Apple Valley, Eagan and West St. Paul in Dakota County earlier Saturday before the storm crossed the river into Ramsey County. Observed wind speeds in Dakota County ranged from 75 to 85 mph. 
Minnesota State Fair flooding
Storms washed over the Minnesota State Fair on Saturday, causing flash flooding on the Midway and near the Grandstand.
Download the FOX 9 Weather App available on Apple and Android for alerts and live radar specific to your location.