Wolves have defensive issues that need fixing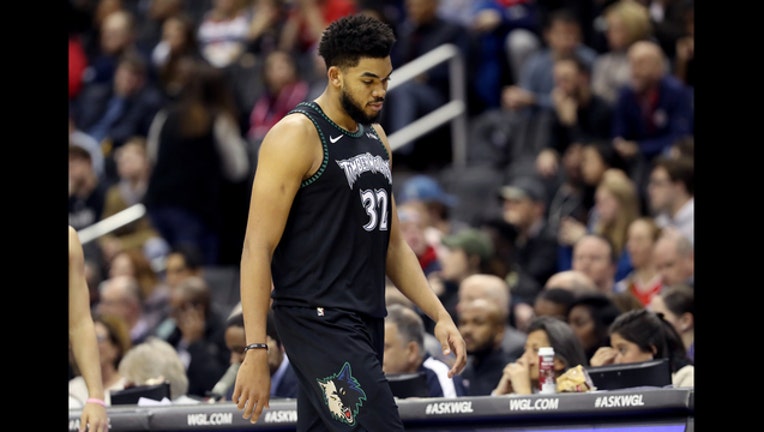 MINNEAPOLIS (FOX 9) - The frustration was clear and evident among the Minnesota Timberwolves after practice on Monday.
There are 19 games left in what's been a turbulent season that featured a coach's dismissal and the trade of a marquee player who couldn't find a common ground with his teammates. The most consistent issue that will ultimately keep the Timberwolves out of the playoffs for the 14th time in 15 years will be its defense.
The Timberwolves are 2-4 since the NBA All-Star break, and are 5.5 games out of the No. 8 spot in the Western Conference. They're not mathematically eliminated yet, but it's a formality with 19 games to play. Minnesota has been hurt by its defense most of the season. The Timberwolves are 21st in the NBA in scoring defense, allowing 112.8 points per game on average for the season.
It's something interim coach Ryan Saunders takes personally.
"For us to win games, we've got to come in with a defensive mindset and identity and a togetherness that it hurts to get scored on defensively," Saunders said. "That's like any team in this league. If you're not going to play defense, there's a lot of teams that can score in this league and out-score you."
Karl-Anthony Towns, who has been playing arguably the best basketball of his career since missing two games while in the concussion protocol recovering from being rear-ended by a semi-truck, called the defensive effort on their recent road trip "embarrassing."
In the four games he's played since the All-Star Game, Towns is averaging 35.2 points and 16.5 rebounds per game. But the offense isn't the issue. It's keeping the opponent from scoring.
"We've just got to play defense. If we play defense, our offense has been great all year, our defense hasn't," Towns said. "If we play defense and take some pride in things, we'll be able to go out there and win a lot more games."
He's not wrong. The Timberwolves are 12th in the NBA in scoring, averaging 112.6 points per game. But they played some of the worst defense in the league on their most recent road trip.
In losses at Atlanta, Indiana and Sunday at Washington, they had a 123.6 defensive rating. They had a particularly difficult time getting defensive stops in crunch time against Atlanta, a game the Timberwolves lost in overtime. They were out-scored 32-23 in the fourth quarter, and 13-5 in overtime. The Hawks played with more energy, and earned the victory.
The Timberwolves also gave up 131 points. It was the third time in the last five games they've allowed at least 130 points. They've allowed at least 140 points in four other losses this season.
"That's not winning basketball. That's something we know we've got to correct to win games," guard Tyus Jones said. "That's something we've shown we can do. I think that's the frustrating part, we know what kind of basketball team we are. We know how good of basketball we can play, we can't give up that many points if we want to do the things we've been saying we want to do."
Injuries have certainly played a part in the Timberwolves' defense issues. Namely, the absence of Robert Covington. He came over with Dario Saric in the Jimmy Butler trade, and is known for his defensive prowess. Covington has missed 26 straight games with a bone bruise in his right knee, and will miss his 27th straight game Tuesday night as the Timberwolves host the Oklahoma City Thunder.
Saunders said Monday he hopes to have Covington playing at some point this week. The Timberwolves also travel to Detroit Wednesday night and host the Wizards on Saturday.
"Robert's a great guy, obviously he's a big piece of what we do and who we are," Josh Okogie said. "I think it's just next man up. I am definitely looking forward to getting him back on the court as soon as possible."
The Timberwolves also need to make shots more consistently, especially from the perimeter. They shot just 4-of-27 from three-point range Sunday and were 8-of-26 at Indiana. They're shooting 26 percent over their last three games.
Players are now playing for jobs, and Saunders is probably coaching for his future in these last 19 games. He's 10-13 since taking over as interim head coach.
Of Minnesota's 29 wins this season, 10 are against currently playoff teams. They'll be tested nightly as they prepare for the offseason. Their final 19 games feature at least 13 teams who are either playoff contenders or fighting for a postseason spot.