Wolves beat Grizzlies in OT on Towns buzzer-beater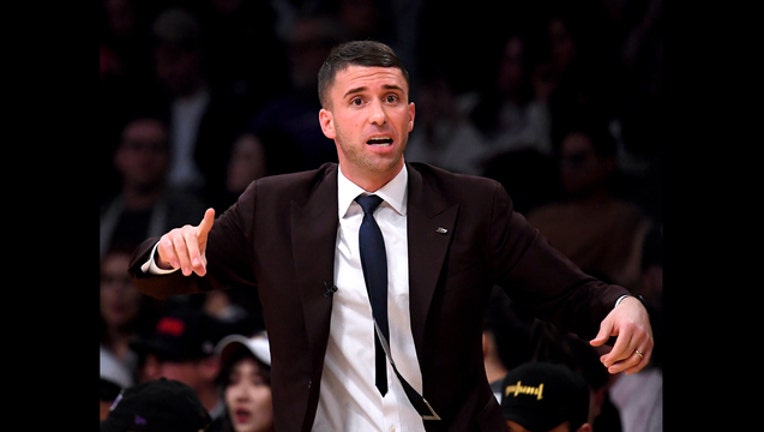 MINNEAPOLIS (FOX 9) - It won't go down as a work of art, but the Minnesota Timberwolves got a buzzer-beater from Karl-Anthony Towns to beat the Memphis Grizzlies 99-97 in overtime Wednesday night at Target Center.
The Timberwolves had a chance to win in regulation, but two contested shots from Jerryd Bayless missed. Andrew Wiggins tried to win it in overtime with a jumper off the dribble, but it bounced off to Towns, who hit a shot from the baseline just before time expired.
The Timberwolves avoided a bad loss against a Grizzlies quad that was 11 games under .500 entering the night. They also survived a rough offensive night for Wiggins, who finished with 12 points on 4-of-19 shooting, including going 0-of-10 in the second half.
Towns finished the night with 16 points on 7-of-17 shooting and grabbed 10 rebounds. Bayless finished with his own double-double, leading the Timberwolves with 19 point and 12 assists. It's the fifth straight game he's scored in double figures.
Both Wiggins and interim coach Ryan Saunders called Bayless a "true professional" in practice earlier this week, stepping in and playing heavy minutes with Derrick Rose, Jeff Teague and Tyus Jones all out injured.
The Timberwolves shot just 38.9 percent from the field, including 8-of-25 from the perimeter. Despite the off shooting night, six players still scored in double figures.
Towns wasn't the first option on the final play in overtime, but he found a way to get the ball at the time it mattered most.
NBA All-Star Game reserves get announced Thursday night, and it's a good bet Towns will make the Western Conference team. Rose could also make the squad, despite missing the last several games with an ankle injury.
The Timberwolves were without Rose, Teague, Jones and Robert Covington, all out with injuries. Fresh off signing a 10-day contract, Isaiah Canaan played 13 minutes for Minnesota and scored three points on 1-of-3 shooting.
Minnesota is now 6-5 under interim coach Ryan Saunders. The Timberwolves head to Orlando Thursday night. The Magic are 20-31 on the season and are 3-7 in their last 10 games.