Win $1,000 on Indiana-Purdue playing FOX Bet Super 6 hoops challenge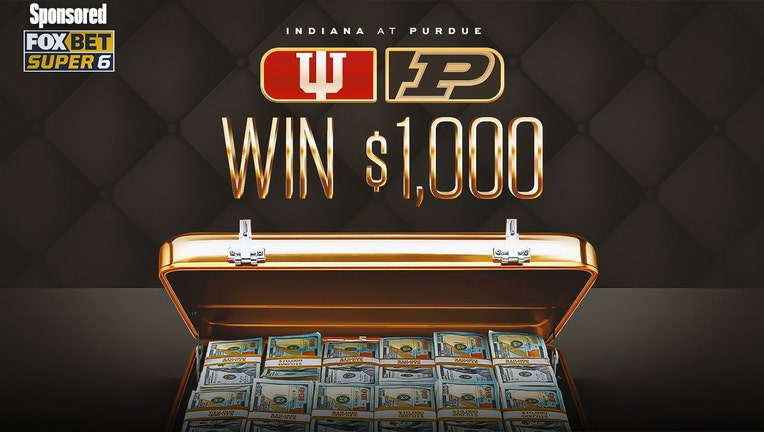 article
We blinked twice, and before we knew it, March Madness was right around the corner. Isn't it funny how time flies when you're having fun watching hours upon hours of college basketball every day that ends in the letter "y?"
Yep, I'm talking to you. 
Admit it, it's so easy to get lost in all the hoops action when you've got superstar players like Purdue's Zach Edey and Indiana's Trayce Jackson-Davis to root for. And since Indiana and Purdue face each other on Saturday in a high-stakes Big Ten matchup on FOX, we want to give you a chance to get in on the game playing FOX Bet Super 6.
The Indiana-Purdue challenge is a free-to-play contest in the FOX Bet Super 6 app where players pick six different outcomes from the marquee matchup between the No. 17 Hoosiers and the No. 5 Boilermakers. From how many steals there will be in the game to the margin of victory, predict all six perfectly, and you could be on your way to a $1,000 payout.
Sounds easy because it is. And it's fun, and people really do win.
But before you head over to the FOX Bet Super 6 app to make your predictions on this huge contest, check out our picks below!
This week's Super 6
How many steals will there be in the game?
<10, 10, 11, 12, 13, 14+
Indiana averages 5.6 steals per game, while Purdue averages 4.8. Expect some pockets to be picked at Mackey Arena on Saturday.
Prediction: 11
How many assists will there be in the game?
<19, 19-20, 21-22, 23-25, 26-27, 28+
Talk about dropping dimes. Both these Big Ten squads are averaging 15.5 assists per matchup, so we'll bet that these two teams will rack up major stats in this category.
Prediction: 23-25
How many blocks will Indiana have in the game?
0, 1, 2, 3, 4, 5+
Welcome to the block party, people, because Trayce Jackson-Davis rules the roost when it comes to protecting the rim. Jackson-Davis has blocked 73 shots this season, so he will help boost the Hoosiers here on Saturday.
Prediction: 5+
How many points will the leading scorer of the game have?
17 points or fewer, 18-19 points, 20-21 points, 22-23 points, 24-25 points, 26 points or more
We're this close to declaring the Indy-Purdue game Trayce-Zach Day because this will be another spot where one of them comes out on top. Jackson-Davis averages 20.5 points per contest as the Hoosiers' leading scorer. Edey, the Boilermakers' leading scorer, averages 22.1.
Count on them to put up big numbers in this battle.
Prediction: 24-25 points
How many rebounds will Purdue have in the game?
0-31, 32-34, 35-37, 38-40, 41-42, 43+
Here comes Edey again. Shocking.
The 7-foot-4 Edey leads his squad in rebounds, averaging 12.7 a game. He'll take command, helping Purdue dominate the boards against Indiana.
Prediction: 35-37
What will be the margin of victory?
1-2, 3-4, 5-6, 7-8, 9-10, 11+
When these Big Ten teams battled it out earlier in the season, Indiana got the 79-74 victory on Feb. 4. Expect another nail-biter as these basketball rivals go down to the wire.
Prediction: 3-4
How to play
There it is, folks. You have our picks for the six outcomes of Saturday's marquee matchup between the Hoosiers and the Boilermakers.
Now, it's your turn to cash in!
After you download the app and submit your selections for the upcoming contest, don't forget to share your picks with us by tagging @FOXSuper6 and @EricaReneeD and using the #EricaSuper6 across all social media platforms.
Let's get this cash!
Download the FOX Bet Super 6 app for your chance to win thousands of dollars on the biggest sporting events each and every week! Just make your picks and you could win the grand prize. Download and play today!
No purchase necessary. Open to legal residents of the US, excluding WA. 18 and older. See terms and conditions at foxsuper6.com. Sponsored by TSG Interactive US Services Limited.