Vikings vs. Bears: It's 'win and in'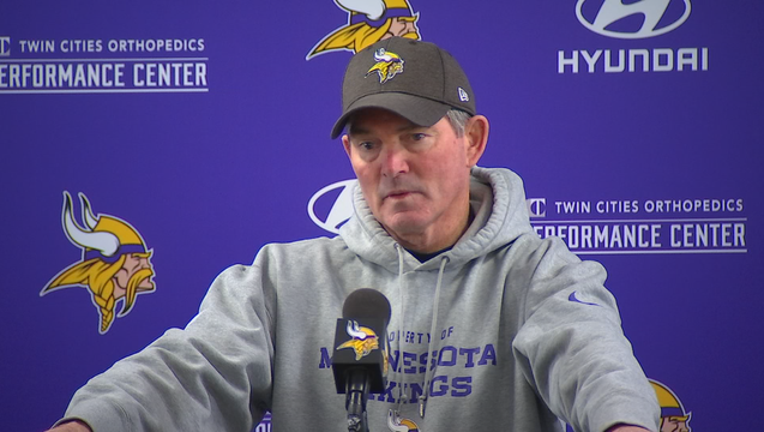 MINNEAPOLIS (FOX 9) - It's a pretty simple scenario for the Minnesota Vikings this week: Win, and you're in.
A victory Sunday over the Chicago Bears, and the Vikings are one of two Wild Card teams in the NFC Playoffs. The Bears come to U.S. Bank Stadium already having won the NFC North Division title. It guarantees them at least one home playoff game.
The Bears will be monitoring the L.A. Rams/San Francisco 49ers game happening at the same time Sunday. A Chicago win and Rams loss would give the Bears the No. 2 seed and a first-round playoff bye. But if the Rams get out to an early lead, the Bears may be inclined to rest starters against the Vikings, who could very well be their playoff opponent the following week.
The Vikings need a win or a Philadelphia Eagles loss to the Washington Redskins to clinch a playoff spot. But for the Vikings, it's much easier to focus on handling their own business. This week is essentially an extension of the playoffs, and it should feel that way at U.S. Bank Stadium.
"Really for us the playoffs have already started. We have to win this game in order to get into them, so there has to be a heightened sense of focus, energy and study time," Vikings coach Mike Zimmer said.
Kirk Cousins was in a similar situation two seasons ago as quarterback of the Washington Redskins. They played the New York Giants in Week 17, needing a win to secure a playoff spot. They lost 19-10, and his season was over.
Cousins said he remembers the feeling after leaving the stadium that night. It's something he doesn't intend to repeat.
"I remember being disappointed, I don't want to feel that again. It's not complicated. I want to win, we want to win," Cousins said. "We understand what's at stake, there's no magic formula, there's no button you can push or hours you can put in to suddenly snap your fingers and guarantee a win. We just have to be the best team that night."
To get a victory Sunday, the Vikings have plenty to clean up from a Week 11 25-20 loss to the Bears at Soldier Field. With the NFC North lead at stake, the Bears dominated the line of scrimmage and controlled the game until a pair of Vikings touchdowns late in the fourth quarter made the game feel closer than it was.
The Vikings committed three turnovers in the game, including a Cousins' interception for a touchdown, and had 14 carries for just 22 yards. Dalvin Cook had nine of the carries for just 12 yards.
While it will be difficult to run against Akiem Hicks, Khalil Mack and the rest of the Bears defense, the Vikings will have to at least try to maintain balance on offense.
"This team is going to be hard to run against. But you can't run it 14 times," Zimmer said.
The Vikings have had balance on offense in their last two victories. They ran it 28 times for 100 yards in Sunday's win at Detroit. Cousins completed 21 of 28 passes for 253 yards and three touchdowns.
In a 41-17 win over Miami two weeks ago, the Vikings ran 40 times for 220 yards and three touchdowns. Cousins was 14-of-21 passing for 215 yards and two scores.
"I feel like there's only one football, there's 50 to 80 plays and we're going to do the best we can but if Dalvin (Cook) has the hot hand, let's get him the ball. If Rudy (Kyle Rudolph) has the hot hand, let's get him the ball. I don't care who it is, I don't care if we never throw it, as long as we're winning and productive as an offense. It's all about winning," Cousins said.
A Vikings' win most likely sends them to Chicago the following week for the NFC Wild Card Playoffs, unless Seattle (9-6) manages to lose to Arizona (3-12). In that scenario, the Vikings would head to Dallas to face the Cowboys.
Cousins compared the magnitude of Sunday's game to getting a surprise quiz in high school. He said a variety of emotions come into play. Among them are excitement, nerves, anxiety and butterflies.
"I joke with people that when the math teacher junior year of high school said, 'Hey we've got a pop quiz,' you can start to feel the butterflies because you want to do well. It matters to you," Cousins said. "Frankly I think when a have butterflies I play a little better because it heightens your awareness and your attention to detail and your sense of urgency."
Three weeks ago, it was a four-game season. Now, it's a one-game season. But the scenario hasn't changed: The Vikings control their own destiny with a victory.