Vikings safety Harrison Smith pondered free agency, retiring before return to Minnesota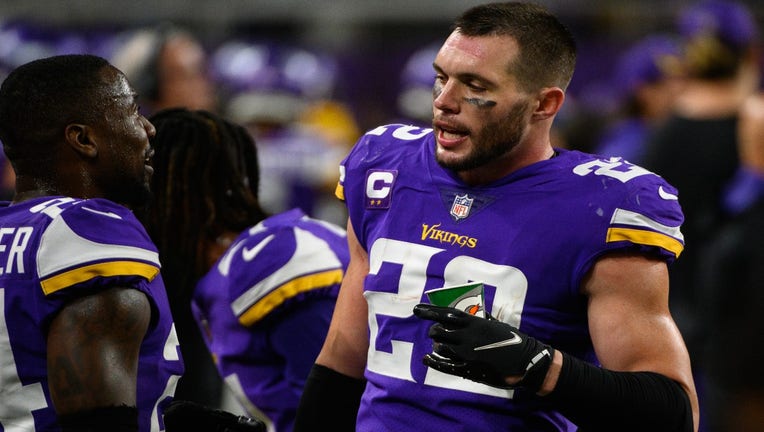 article
MINNEAPOLIS (FOX 9) - The Minnesota Vikings are back at TCO Performance Center this week with several players in town for the team's voluntary offseason workout program.
Harrison Smith is one of many who didn't know what his future held after the Vikings' loss to the New York Giants in the NFC Playoffs. The veteran safety, one of the longest-tenured players on the roster, was one of the many high-priced names the front office had to make decisions about in the offseason.
Smith was candid on Tuesday in talking about his return to the Vikings for a 12th season with a restructured contract. He thought about the possibility of being released, entering free agency and going to another team. So why did he come back? One of the biggest reasons was new defensive coordinator Brian Flores.
"I thought about it for sure. Human nature, I think about other things and other places. I'd say Flo was a big reason, I wouldn't say one thing. You definitely have to appreciate what the Wilf's have done with the Vikings and the leadership they have and the investment they have in the franchise and the community," Smith said. "I kind of grew up here. There's tangible things I thought about and intangible things, they all kind of added up to I wanted to stay here and give it another crack. It's tough to quantify everything, it felt right to stay."
Smith also said the thought of retiring was there, and it wasn't the first time.
"I don't know how to put a percentage on that either, but that creeps in for sure. That's not the first year I thought about it, can't play forever," Smith said. "It's a big world out there, lot of things going on, it's fun to think about and try and dabble in some things here and there, but I can still run alright and catch the ball pretty well."
The Vikings took Smith with their first round pick in the 2012 NFL Draft. He's started 158 of his 159 career games. He's made the Pro Bowl six times, was an All-Pro in 2017 and tied a career-high with five interceptions. He has 946 career tackles, and 16.5 sacks.
He's also seen teammates leave for other opportunities. Anthony Barr is now with the Dallas Cowboys, the Vikings released Eric Kendricks. Patrick Peterson went to the Steelers. It's the business of the NFL.
"That's the world we live in, and it's not just football. Whatever your job is, you're not going to work with your colleagues for the entirety of it," Smith said.
His return to Minnesota was unofficially solidified after a text exchange with Chris Tomasson, a former Vikings' beat reporter with the St. Paul Pioneer Press. Tomasson asked Smith if he was returning for 2023, and Smith responded with a photo of Minnesota music legend Prince.
"I think I texted that to our guy CT. I don't even remember, I was like let's see what he does with this. He didn't disappoint, so here we are," Smith said.