Vikings control playoff destiny at Detroit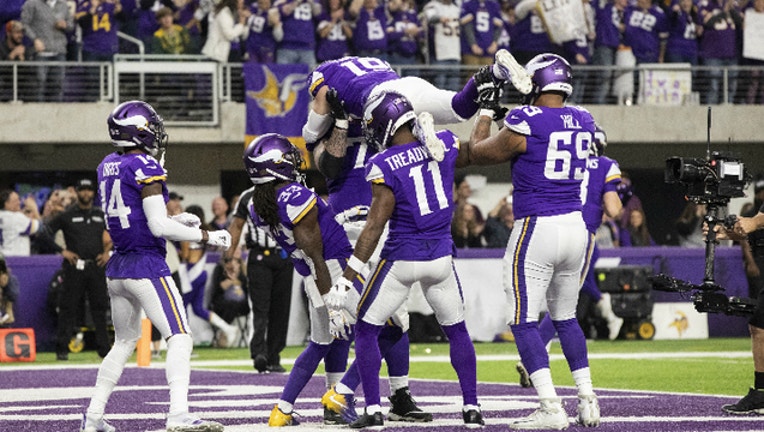 MINNEAPOLIS (FOX 9) - The Minnesota Vikings are fighting for their playoff lives as they head to Detroit to face the Lions on Sunday.
The Vikings currently hold the No. 6 seed in the NFC playoff picture. They'll be keeping an eye on the Washington Redskins (7-7), who face Tennessee Saturday afternoon. The Philadelphia Eagles (7-7) face Houston on Sunday, and Kansas City faces Seattle Sunday night.
Minnesota would clinch a playoff spot Sunday with a win, and the Redskins and Eagles losing. The Vikings are focused on taking care of their own business at Detroit before they get concerned about anything else.
But it's a big game at Detroit for the Vikings and their playoff aspirations.
"You kind of create the scenario for yourself. You want to play in big games. Ultimately if you keep playing, each game is big," safety Harrison Smith said. "They're all big, that's what you sign up for."
The Vikings have every reason to be confident facing the Lions on Sunday. They beat Detroit 24-9 in Week 9 and sacked quarterback Matthew Stafford 10 times. Minnesota's defense limited the Lions to 214 total net yards despite running 24 more offensive plays.
They're also coming off pummeling the Miami Dolphins, sacking Ryan Tannehill nine times.
The Lions come in having lost three of their last four games. They'll play like they have nothing to lose, despite missing several key offensive starters. Kerryon Johnson is on injured reserve. Marvin Jones Jr. is out for the season with a bone bruise on his knee. The Lions also traded Golden Tate during Week 8.
With Johnson out, Theo Riddick, Zach Zenner and LeGarrette Blount will carry the load for Detroit's run game. The Lions are the lone team in the NFL to run for at least 100 yards the past four weeks.
Stafford has seen his fair share of pressure this year. Despite that, he's had seven games with multiple touchdown passes this season. He's also fifth in the NFL in touchdown passes over 10 seasons with 235, and third in yards with more than 3,330.
But it starts with stopping the run.
"We have to stop the run, make him pass and take advantage of the opportunities when we see them," defensive end Stephen Weatherly said.
Xavier Rhodes will likely be tasked with defending top receiver Kenny Golloday. He's got 1,005 receiving yards and five touchdowns on the season. He's also one of four NFL receivers to have 60 or more catches, and at least 15.5 yards per catch.
"Just going out there and playing ball. We're not going out there and thinking about stats or anything like that. We're just going out there and playing ball, trying to get the W," Rhodes said.
Mike Zimmer said the Vikings should be prepared for anything.
"They could throw a bunch of reverse passes and halfback passes and things like that. But we just have to go out and play and if we're reading our keys and doing the things we're supposed to be doing, we should be good," Zimmer said.
A win gets the Vikings that much closer to the playoffs. A loss puts a cloud of uncertainty over the regular season finale.