University of Minnesota cutting men's gymnastics, tennis, track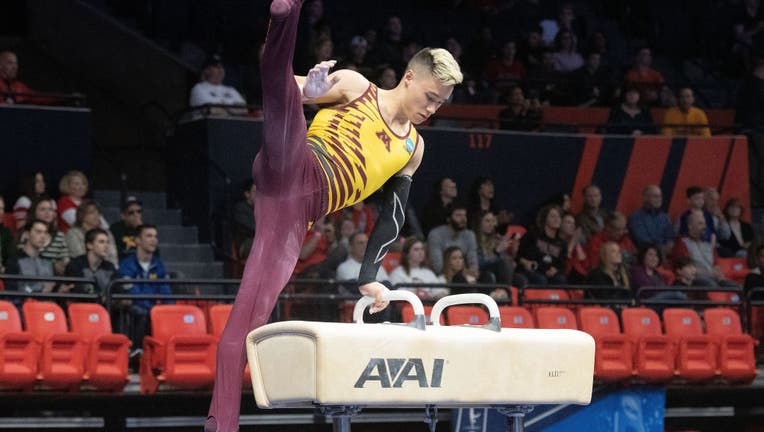 MINNEAPOLIS (FOX 9) - The University of Minnesota will be cutting men's indoor and outdoor track and field, men's gymnastics and men's tennis following the end of the 2020 - 2021 season, Athletic Director Mark Coyle announced on Thursday.
Coyle shared the news in an open letter to the U of M athletics community. He explained the decision comes due to a projected $75 million loss of revenue due to the postponement of the fall sports season, largely from a potential loss in football revenue, amid the COVID-19 pandemic.
The decision to eliminate men's track, gymnastics and tennis affects 58 student-athletes and their coaches. Coyle met with all athletes on Zoom Thursday to deliver the tough news.
"We have special, special kids. They're hurt, they're angry, they're confused and I apologized to them. These are difficult decisions, and I really feel for them," Coyle said. "It's a tough day, a somber day for Gopher athletics."
Players on the impacted teams will continue to have access to academic, athletic and mental health support throughout the season. All existing scholarships will be honored for those who choose to continue to complete their undergraduate education at Minnesota. Coyle and staff will also help every student-athlete who wishes to transfer to pursue athletics and academics at a different school.
To make matters more difficult for Coyle, all four programs have been consistently successful over the last four decades.
The men's tennis program either won a Big Ten title or finished second in the conference in nine of 10 seasons in the 1980s. They've been a top-40 program in the nation in 12 of the past 15 years, and made the NCAA Sweet 16 in 2018.
The men's gymnastics program had a three-time NCAA champion on John Roethlisberger from 1991-93. Shane Wiskus won a national title on the parallel bars last year, and the team was the 2018 NCAA runner-up, the fourth time that's happened in program history. The Gophers have had a top eight national finish every year since 2007, and have won 21 Big Ten titles.
The men's track and field program has 14 individual NCAA champions, and has won nine Big Ten titles since 1998.
The Gophers had the No. 8 athletic budget in the Big Ten this past year, while offering the fourth-most sports. Coyle faced an unprecedented challenge to maintain financial numbers while dealing with a global health pandemic, and maintaining Title IX standards.
Coyle's letter also states that eight positions within the athletic department will be eliminated, separate from those associated with the discontinued programs, to save the department an estimated $1.3 million. Many academic professional and administrative employees will be subject to a 10% percent pay reduction for the rest of the fiscal year, while civil service and labor represented employees will be furloughed for 17 days. Employees who make $40,000 or less will not be impacted.
Coyle said of about the 260 staff in the athletic department, the financial hardship has hit about 240 members between pay cuts, eliminations and furloughs.
"These are people, they are athletes, they are coaches, they are staff. These are not easy decisions," Coyle said.
The cuts move the Gophers from 25 to 21 sports, and it was inevitable after the Big Ten decided to postpone the football season. Football is the department's biggest generator of revenue, between TV partnerships, losing March Madness, ticket sales, a drop in donations due to COVID-19, multimedia rights and various other revenue streams.
It's hard to predict what the future for the Gophers' athletic department can look like, until they know more about if and when football will happen.
"There's no question that football drives us financially. It's a big, big piece of our department, a big piece of our budget. There's still a lot of unknowns that we're trying to manage. The uncertainty is what has been the biggest challenge with this pandemic so far. You don't know what it's going to look like when you can play," Coyle said.
Additionally, Coyle, P.J. Fleck, Lindsay Whalen, Hugh McCutcheon and Bob Motzko are taking 10% pay cuts that have been extended through the remainder of the fiscal year, which is expected to save the athletic department about $1.2 million.
The decision will need to be approved by the Board of Regents.
"It's a difficult day, a somber day for Gopher athletics," Coyle said.