Timberwolves show frustration with officials in 104-102 loss to Celtics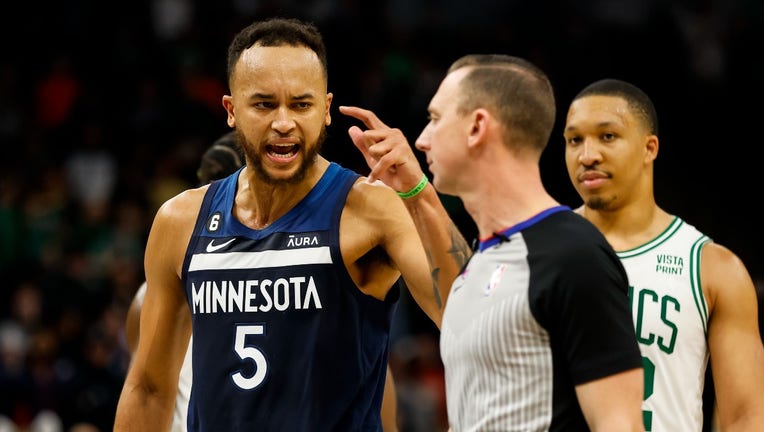 article
MINNEAPOLIS (FOX 9) - Wednesday started with the Minnesota Timberwolves offering a non-update on injured star Karl-Anthony Towns.
It ended with Anthony Edwards and Kyle Anderson getting adjusted, and Timberwolves coach Chris Finch visibly frustrated with the officiating in a 104-102 loss to the Boston Celtics at Target Center. It was a missed opportunity to beat one of the best teams in the Eastern Conference, and solidify playoff positioning with about three weeks left in the regular season.
But it was a series of bizarre calls and non-calls down the stretch that had the Timberwolves frustrated and angry after. Edwards missed a go-ahead 3-pointer with about 10 seconds to play. Grant Williams then rebounded a Marcus Smart missed 3-pointer, and was battling with Rudy Gobert, Jaden McDaniels and Mike Conley before a jump ball was eventually called.
Celtics' coach Joe Mazzulla sprinted from the sideline down the court, to the Timberwolves' elbow, during live play, trying to call a timeout. He should've been called for a technical foul, and the officials were oblivious to it. They told a pool reporter after the game they did not see him.
"I just thought it was just rough. It was really rough out there," Finch said after the game. "A little unbalanced at times. I don't understand why there weren't technicals when Mazzulla was out on the floor twice during the action of play.
To make matters worse, Williams and Gobert were in a jump ball that Williams quick-tipped. The officials made no effort to intervene or redo the play.
"I would never lose a jump ball to Grant Williams, with all due respect. I mean, if I do, it's really on me. But I didn't. Completely stole the ball, and I don't know what happened with that situation. But yeah, stole the ball. An unfortunate turn of events," Gobert said.
Gobert also got a technical earlier in the game for a brief flex after dunking.
"Sometimes, we have that feeling that the things that get players and people in general furious, is we feel like we're not being treated with integrity," Gobert said. "And that's when it becomes hard to keep your cool."
Anderson and Edwards were ejected late in regulation for repeated profanities to officials. Anderson was visibly frustrated at contact on the offensive end not getting called, and touch fouls on defense drawing whistles.
"Never been one to harp on officiating but got damn," Anderson said on his Instagram story postgame.
The bottom line is the Timberwolves are 35-35 with 12 games to play, and in the No. 7 spot in the West fighting for the postseason.