Takeaways: Gophers 27-26 loss to Illinois costly in Big Ten West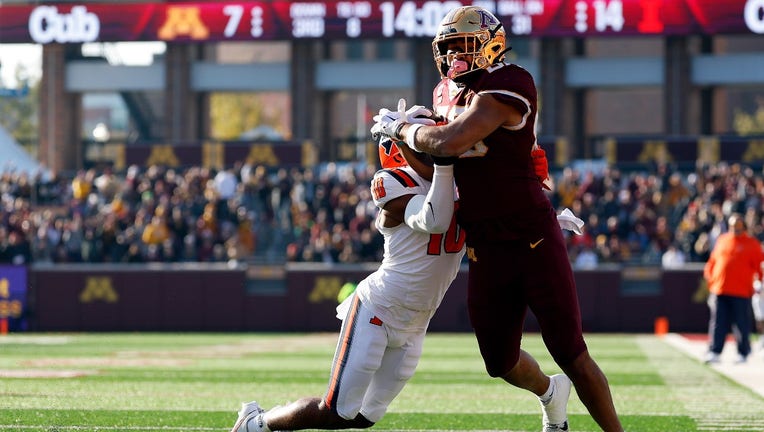 article
MINNEAPOLIS (FOX 9) - The University of Minnesota football team is moving on from a costly 27-26 loss to Illinois on Saturday at Huntington Bank Stadium.
The Gophers fell to 5-4 on the season, 3-3 in the Big Ten and gave away a golden opportunity to remain atop the Big Ten West. Minnesota has three regular season games remaining, at Purdue, at Ohio State and against Wisconsin, and somehow is still alive in the Big Ten West, even if it's a long shot.
DEFENSIVE ISSUES LATE
One thing P.J. Fleck didn't account for in Saturday's loss is a defensive meltdown late. Danny Striggow got a strip sack fumble on Luke Altmyer, which Illinois recovered. Altmyer left the game injured, leaving senior transfer John Paddock to enter the game. All he did was go 3-for-3 passing for 85 yards, and hit Isaiah Williams for the game-winning 46-yard touchdown with 50 seconds to play. Before that, Paddock converted a 4th-and-11 for 22 yards. Stop that play, and the game is over.
Somehow, there was a miscommunication between Cody Lindenberg, Tyler Nubin and Aidan Gousy, leaving the Illini's best receiver to get behind the defense in the game's most pivotal moment. That cannot happen.
ATHAN KALIAKMANIS IMPROVES
The box score won't blow you away, but Athan Kaliakmanis is showing steady improvement in his first full year as a starting quarterback. He finished 11-of-22 for 167 yards and three touchdowns, to Daniel Jackson, Brevyn Spann-Ford and Elijah Spencer. But Kaliakmanis was just 2-of-11 in the second half. The one he wants back is an incompletion to Nick Kallerup, a first down there and the Gophers can nearly drain the clock out for a victory.
BREVYN SPANN-FORD RE-EMERGES
Brevyn Spann-Ford had five catches for 45 yards in the season-opening win over Nebraska. In the next six games, he had eight catches for just 21 yards. The last two weeks, Spann-Ford has become a target again. He had two catches for 43 yards against Michigan State. Last week, three catches for 58 yards, and his first touchdown of the season. The Gophers will need that to continue over the last three games.
INTERESTING THIRD DOWN PLAY CALL
The Gophers faced a 3rd-and-9 near the end of the first half at the Illinois 22-yard line. Fleck opted to run the ball, and Jordan Nubin gained four yards. Dragan Kesich came on for a field goal to give Minnesota a 17-14 lead at the half. The Gophers could've been more aggressive, but Fleck said he was thinking they could pop a big run. Some say he was playing not to lose instead of to win. In a one-point loss, the decision looms.
GOPHERS STILL (BARELY) HAVE LIFE IN BIG TEN WEST
Somehow, the Gophers still have life in the Big Ten West title race. It's a long shot and an uphill battle, but they're not eliminated yet. With a win over Illinois, Minnesota is 4-2 and atop the division with Iowa, holding the head-to-head tiebreaker.
Instead, the Gophers are a game back at 3-3. They now need to win at least two of their last three among Purdue, Ohio State and Wisconsin. Iowa has to lose two of its last three between Rutgers, Illinois and Nebraska. Assuming Minnesota loses at Ohio State, they need help from the Hawkeyes to get to Indianapolis.
That's a strategy that generally doesn't pay off.