Stanley Cup Playoffs start Wednesday for Wild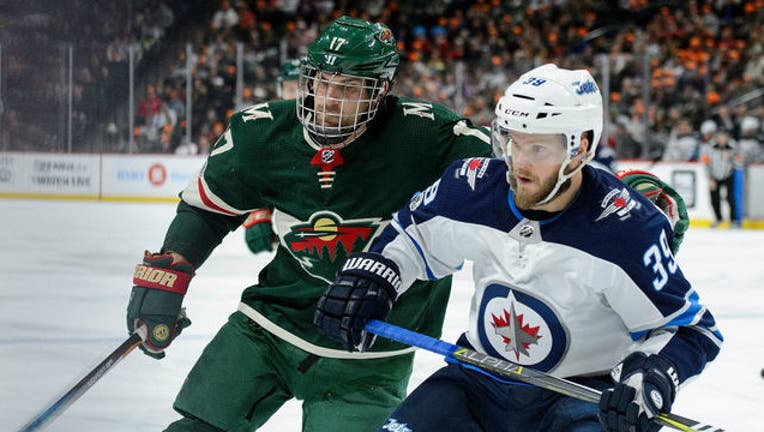 article
ST. PAUL, Minn. (KMSP) - The Stanley Cup Playoffs start Wednesday for the Minnesota Wild and although the first two games are being played north of the border, there is no shortage of ways for fans to celebrate the postseason in the State of Hockey. 
This will be the sixth consecutive Stanley Cup Playoff appearance for the Wild, but their first time facing Central Division rival the Winnipeg Jets in the postseason. 
FIRST ROUND PLAYOFF SCHEDULE
Game 1: Wild at Jets, Wednesday, April 11, 6:00 p.m. 
Game 2: Wild at Jets, Friday, April 13, 6:30 p.m. 
Game 3: Jets at Wild, Sunday, April 15, 6 p.m. 
Game 4: Jets at Wild, Tuesday, April 17, 7 p.m. 
Games 5: Wild at Jets (if necessary) 
Game 6: Jets at Wild (if necessary) 
Game 7: Wild at Jets (if necessary)
PEP RALLY
The Wild are hosting a pep rally for fans ahead of Game 1 on Wednesday from 11:30 a.m. to 1:30 p.m. at TRIA Rink in downtown St. Paul. Fans can participate in an open skate 12:30 p.m. to 1:30 p.m., with skate rentals available at the rink. The first 250 fans will also receive a free lunch. 
GAME 2 WATCH PARTY AT XCEL ENERGY CENTER
The Wild are hosting a viewing party for fans at the Xcel Energy Center on Friday for Game 2 of the playoffs. Gates 1 and 2 will open at 6 p.m. The game starts at 6:30 p.m. 
The viewing party is free and open to the public. 
THIS IS OUR ICE
"This is Our Ice" is a campaign started by the Wild in the 2017-18 season. The team's home ice was made up of water from ponds, lakes and rinks across Minnesota, brought to the Xcel Energy Center by fans throughout the regular season. 
The Wild will continue that tradition throughout their run in the Stanley Cup Playoffs. Fans can bring up to three ounces of water to Gate 1 at each of the playoff games at the Xcel so it can be used in ice-surfacing. 
Fans can also pick up a free "This is Our Ice" yard sign at participating Twin Cities SuperAmerica locations on Wednesday from 11 a.m. to 2 p.m. to show their support for the team. The Wild are encouraging fans to post their signs at their homes or workplaces and share photos of them on social media using #OurIce. 
A list of locations offering the yard signs can be found on the Wild's website.