Short-handed Wolves beat Lakers, 120-105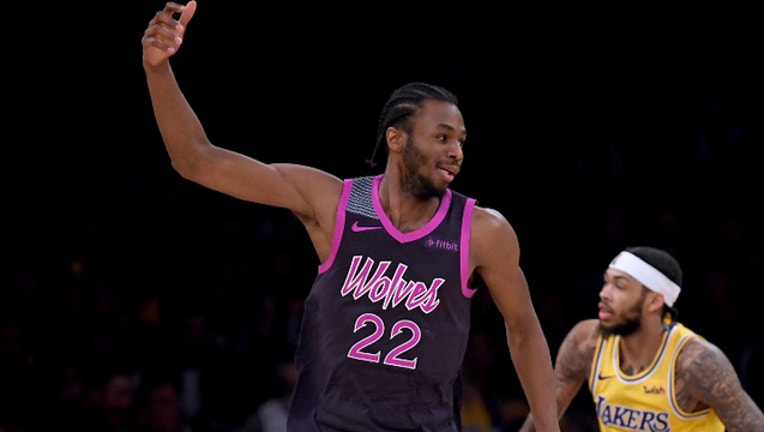 No Jeff Teague. No Tyus Jones. No Robert Covington. Only 12 minutes of Derrick Rose? No problem.
The Minnesota Timberwolves had a few unsung heroes in a 120-105 win at the L.A. Lakers Thursday night to improve to 24-24 on the season. It was their third straight win as the Timberwolves improved to 5-3 under interim coach Ryan Saunders and 7-3 in their past 10 games.
It's also the first time they've been .500 on the season since a Dec. 10 loss at Golden State put the Timberwolves at 13-14.
Karl-Anthony Towns did his usual thing with 27 points, 12 rebounds, five assists and two blocks for his 31st double-double of the season. Andrew Wiggins scored 23 points, but his eight rebounds might have made a bigger impact on the game. He's averaging seven rebounds per game with Saunders as the interim coach. He was averaging 3.9 rebounds per game in the previous 36.
"It was a huge team win. We have a lot of guys out, a lot of guys that's hurt. People came in and stepped up," Wiggins said.
Taj Gibson also got his ninth double-double of the season with 14 points and 10 rebounds.
But it was the Wolves bench, largely players who don't get much playing time, that provided the spark.
Jerryd Bayless set a season-high with 16 points. Jared Terrell added a season-high 10 points on 4-of-5 shooting and made big shots at key times.
Bayless and Terrell stepped up for the Timberwolves with Rose missing the second half with an ankle injury. They were ready and up for the task.
"Doing the little things every day. Staying in the gym, getting extra shots up. Just mentally preparing yourself. Some guys go down and it's just the league, how it works. You've just got to be mentally ready and stay locked in," Terrell said.
The Timberwolves head to Utah to face the Jazz Friday night and are just two games out of a playoff spot.