Scottie Scheffler repeats at WM Phoenix Open to regain No. 1 ranking
SCOTTSDALE, Ariz. - Scottie Scheffler successfully defended his WM Phoenix Open title Sunday at TPC Scottsdale to regain the No. 1 spot in the world.
Scheffler closed with a 6-under 65 to beat Nick Taylor by two strokes in breezy conditions on the firm and fast Stadium Course. The 26-year-old Texan will jump from second to first in the rankings, taking the top spot from Rory McIlroy with his fifth PGA Tour victory.
Scheffler made a 22-foot eagle putt on the par-5 13th to break a tie with Taylor, then took a two-shot lead on the par-3 16th with a 15-footer for par after hitting his tee shot far left on the stadium hole.
"I was just trying to hit a solid putt," Scheffler said about the putt on 16. "In those situations that's really all you can do. So, when I'm standing over that ball all I'm thinking about is the speed. I had my line."
Scheffler birdied the short par-4 17th and closed with a par to finish at 19-under 265.
"I hit some wild shots off the tee that were pretty uncharacteristic for how I usually shape the ball," Scheffler said. "I was just able to grind it out, make a lot of putts. I think I only had two bogeys this week, which is really, really good around this golf course."
He earned $3.6 million from the $20 million purse in the second of the PGA Tour's new designated events, created in response to LIV Golf to bring the top tour players together more often.
"There were a lot of guys up there," Scheffler said. "I knew it was going to take a great round. Nobody was going to give this golf tournament to me. I had to go out and earn it."
Last year, Scheffler beat Patrick Cantlay in a playoff for his first tour title. He added victories in the Arnold Palmer Invitational, the WGC-Match Play and the Masters and was the PGA Tour's player of the year.
"I love the environment here," Scheffler said. "It's a lot of fun to play. I think the firmness of the golf course really suits me. Having the ability to play a lot of different shots — hit it high, hit it low."
He's the seventh player to successfully defend a title in the tournament, following Ben Hogan (1946-47), Jimmy Demaret (1949-50), Lloyd Mangrum (1952-53), Arnold Palmer (three straight from 1961-63), Johnny Miller (1974-75) and Hideki Matsuyama (2016-17).
Taylor also finished with a 65. The Canadian bogeyed the 16th, missing a 7-footer after Scheffler holed his par putt. Taylor's tee shot on the 175-yard 16th just caught the left edge and rolled away from the green.
"I really felt that was a great swing off the tee there," Taylor said. "That wind was just crazy strong. I played enough for it, just obviously not quite enough. I would love the chip back on there. I felt like that was one I could potentially hole. It was still a tricky chip."
Jon Rahm, the former Arizona State star who opened the year with consecutive victories in Hawaii and the California desert, was third at 14 under after a 68. He also was in position to take the No. 1 spot with a victory.
"I'm not sure I could have done much better the last two days, honestly," Rahm said. "I didn't feel like I made bad swings, but I put myself in bad spots."
The wind was a factor all week, with the large grandstands and spectator mounds making it difficult to judge.
"The wind this week brought a new challenge that we hadn't had around this golf course since I've been playing this tournament," Scheffler said. "So, it was definitely a good challenge and was a fun week."
Justin Thomas was fourth at 13 under after a 65. Jason Day (68) followed at 12 under, and Jordan Speith (70) was another stroke back with Sam Burns (68), Sungjae Im (69) and Tyrrell Hatton (69).
Rickie Fowler was in the group at 10 under. The 2019 winner had a hole-in-one on the par-3 seventh, using a 6-iron in the 216-yard hole.
McIlroy closed with a 70 to tie for 32nd at 4 under.
___
AP golf: https://apnews.com/hub/golf and https://twitter.com/AP_Sports
Related stories
LiveNOW from FOX: Streaming live events, breaking news, and stories from around Arizona and the world: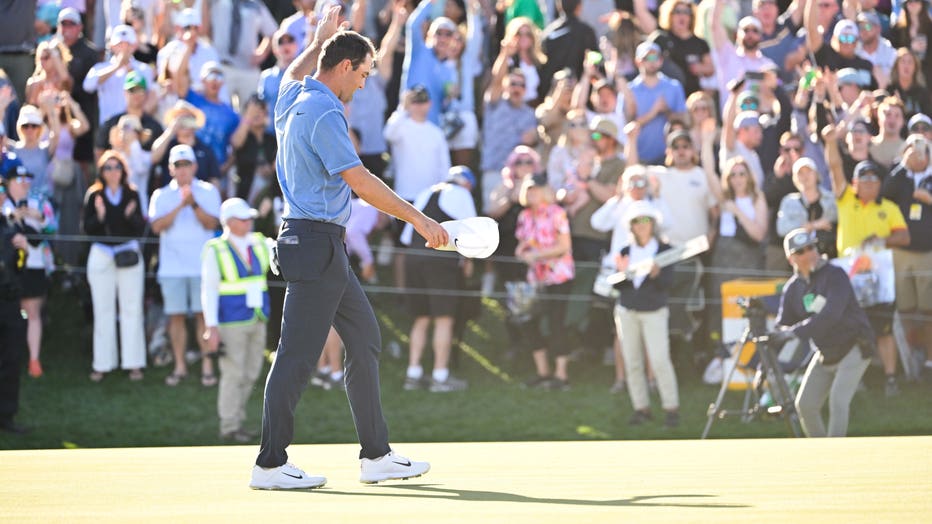 SCOTTSDALE, ARIZONA - FEBRUARY 12: Scottie Scheffler waves to fans on the 18th green after making the winning putt during the final round of the WM Phoenix Open at TPC Scottsdale on February 12, 2023 in Scottsdale, Arizona. (Photo by Ben Jared/PGA TOUR via Getty Images)