Scholarship surprise for Gophers walk-on Bailey Schoenfelder, delivered by Navy SEAL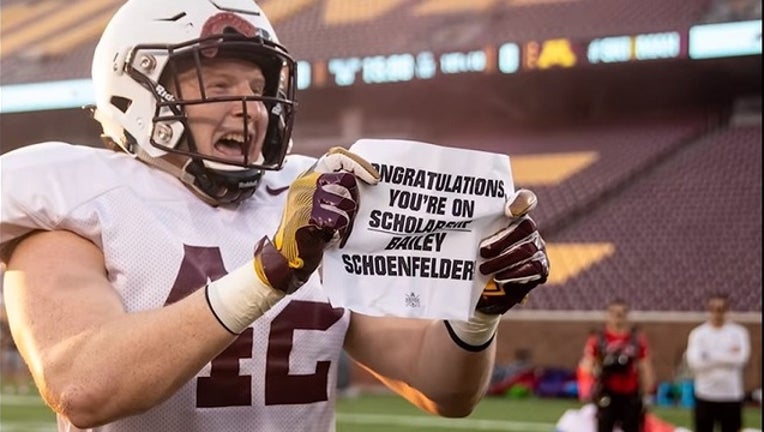 article
MINNEAPOLIS (KMSP) - Minnesota Golden Gophers football coach P.J. Fleck goes to great lengths to surprise walk-on players with scholarships. His latest surprise was truly elite.
With the help of former Navy SEAL Brent Gleeson and the Patriot Parachute Team, Fleck surprised redshirt sophomore linebacker Bailey Schoenfelder with a scholarship at TCF Bank Stadium on Thursday, Aug. 9.
The scholarship surprise started with a team meeting visit from Gleeson. 
"Navy SEALs are known to be the most elite and feared special operations fighting force in the entire world," Gleeson told the Gophers players. "Who wants to do that?"
One hand shot up. Bailey Schoenfelder. 
Phase 2 was at practice at TCF Bank Stadium. The Patriot Parachute Team dropped onto the field and hand-delivered an envelope to Coach Fleck who read the name of Schoenfelder's roommate, redshirt sophomore tight end Ko Kieft.
Kieft ripped open the envelope to reveal the letter: "Congratulations. You're on scholarship Bailey Schoenfelder." 
"He's done everything you could to get in the Navy, the Army, the Marines. And there's nobody more willing, and that I would (rather) have fighting for our country, than this guy," Fleck told the team. "He's our SEAL, he's our Army Ranger, he's our Green Beret, he's our Delta Force. Nobody deserves it more holistically."
"I speak for our entire team when I say thank you for everything that you stand for and everything that you're going to continue to do," Fleck told Schoenfelder. "We're lucky to have you on this football team, and we'd be even luckier to have you fighting for us. I'm proud of you man, I love you."
Bailey Schoenfelder played in nine games on special team for the Gophers last season and earned Academic All-Big Ten honors. The Huron, South Dakota native is the cousin of retired Minnesota Vikings linebacker Chad Greenway.