Row the Boat transfer finalized between PJ Fleck, Western Michigan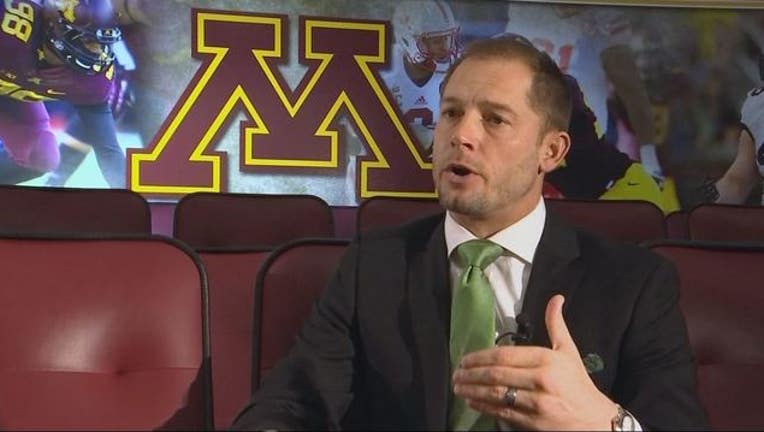 article
MINNEAPOLIS (KMSP) - Row the Boat is officially coming to the University of Minnesota. Western Michigan University and Gophers head coach P.J. Fleck have finalized an agreement to make the "Row the Boat" mantra the intellectual property of Coach Fleck, WMU confirmed Wednesday.
As part of the agreement, Fleck will make an annual donation of $10,000 to support a scholarship to be awarded to a Western Michigan football player. The Fleck Family Football Scholarship will be awarded each year beginning in fall 2017. Fleck previously donated $50,000 to WMU to help renovate the Waldo Stadium coaches' offices.
Western Michigan will also retain the right to use "Row the Boat" in its football materials and displays.
Row the Boat is a life-guiding mantra that is very special to Fleck – a way he coped with the loss of an infant son.
"Row The Boat is extremely personal for me," Fleck said in a statement. "It's a way of life that centers around a never give up mentality. It helped change a culture at Western Michigan and enabled the entire community of Kalamazoo to rally around something bigger than football. I am confident that it will do the same here at the University of Minnesota, in the Twin Cities and the entire state."
A licensing agreement for "Row the Boat" between WMU and Harlan Sports Management, details the complete phrase ownership and use decisions.
Full statement from Gophers head coach P.J. Fleck 
FOX 9 INTERVIEW - P.J. Fleck hopes to make new Gophers fans by getting them to 'Row the Boat'