Pitchers lead Twins to series win over Cleveland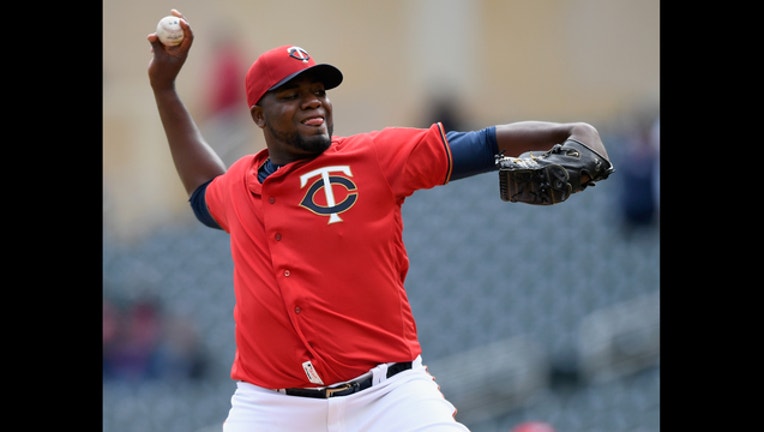 MINNEAPOLIS (FOX 9) - The Minnesota Twins are off to a 2-1 start, and while it's early and a bit premature to get excited about their season, it feels good just to be watching baseball on a regular basis again.
What is valuable to take from the series win was that it came against the Cleveland Indians, the team predicted by most baseball experts to win the American League Central Division. The Twins did it with three solid outings from their starting pitchers.
Jose Berrios got a standing ovation from the Opening Day crowd at Target Field after pitching 7 2/3 scoreless innings, allowing just two hits and striking out 10. It set a Twins record, one previously held by Brad Radke in 1996.
The Twins didn't get a win Saturday, but they did get six solid innings from Jake Odorizzi. He allowed just one earned run on only one hit, a Hanley Ramirez home run. He struck out 11 and walked just two.
In Sunday's win to take the series, Michael Pineda pitched four scoreless innings, allowing just one hit while striking out five. In putting the math together, Berrios, Odorizzi and Pineda combined to strike out 26 batters, gave up just four hits and one earned run. It may not be sustainable long-term, but it's a fantastic start for pitching staff that was facing questions coming into the season.
The Twins' bats came alive on Sunday for nine runs on 15 hits. Nelson Cruz hit the first Twins' 2019 home run to Target Field with a blast off the second deck above the bullpen in left center. Byron Buxton is off to a fast start after a strong Spring Training, with four hits in his first 10 at-bats. That includes three doubles, and a two-run double on Sunday.
In Thursday's opener, four newcomers signed in free agency all had an impact in the 2-0 victory. In the seventh inning, Cruz and C.J. Cron singled, Marwin Gonzalez delivered an RBI double and Jonathan Schoop was hit by a pitch.
Maybe most importantly, the Twins haven't committed an error in the first three games.
The Twins were off on Monday before opening a seven-game road trip at Kansas City. They'll play two games against the Royals, three against the Phillies and two against the New York Mets before returning home for a seven-game home stand starting April 12.