Personal at the Pav: Gophers face Oregon Friday in Sweet 16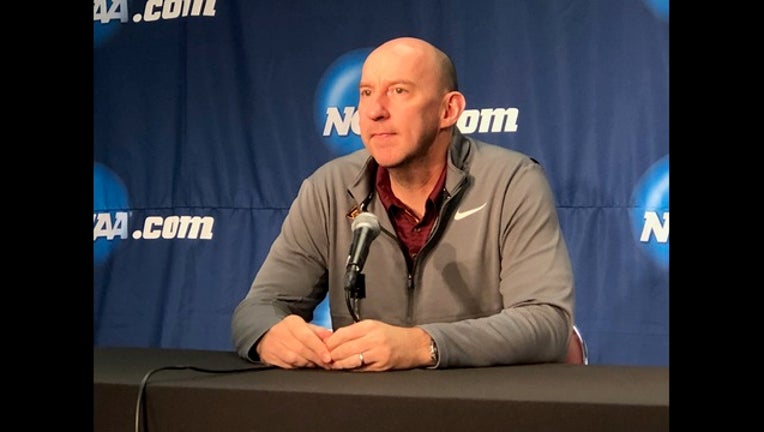 MINNEAPOLIS (FOX 9) - The Gophers volleyball team won't admit it publicly, but there's a little bit of revenge at stake when they host Oregon Friday afternoon in the NCAA Sweet 16.
The Ducks were one of only three teams to beat the No. 2-seeded Gophers all season. It was just their sixth match of the season, and it was part of the Big 10/Pac-12 Challenge. Oregon claimed a 3-1 victory, but the four games combined were decided by a total of eight points. The third set went to extra points, and the Gophers kept the match alive with a 27-25 victory.
Much has changed for both teams since.
"A lot of errors on our side were happening," said junior outside hitter Alexis Hart. "We weren't hitting the ball in a lot and the ball was dropping, lack of communication. I feel like for this game if we just clean it up we'll be fine." 
The Ducks finished the regular season 22-10 overall and 13-7 in the Pac-12. They got to the Sweet 16 with a 3-1 win over New Mexico State and a 3-2 win over Baylor.
A huge opportunity awaits the Gophers volleyball program. They'll remain on home court as long as they win, with matches at the University of Minnesota Sports Pavilion this weekend. The Gophers are nearly unbeatable on their home court, going 61-2 since the 2015 season. Two of those losses came last season, before their eventual run to a second straight Final Four.
If they advance to their third straight this year, they'll have plenty of local fan support at Target Center in downtown Minneapolis.
"I think they're fired up and they should be. You work hard all year to get to the tournament and you try to play these big matches. It's a fun thing if you like to compete," Gophers coach Hugh McCutcheon said.
Sophomore hitter Stephanie Samedy said she's excited to play such a big match in front of their home crowd.
"The Pav is an advantage over other places because the fans are so invested in our game. If we're down, if we're up, they're always there to boost us," Samedy said. "I think for other teams coming into that, it would be really hard to deal with."
A win Friday afternoon puts the Gophers in the Elite 8, facing the Nebraska/Kentucky winner on Saturday for a trip to Final Four. Those two teams meet before the Gophers and Oregon, so they'll know what lies ahead before their Sweet 16 match Friday.
Minnesota will be tasked with controlling a trio of Oregon hitters that pose problems. In their win over the Gophers earlier this season, Ronika Stone, Lauren Page and Willow Johnson combined for 51 kills and just 16 hitting errors. They converted all 72 sets for kills.
If that's not enough, Lindsey Vander Weide also had 14 kills for the Ducks in that match.
Samedy said the Gophers have made several adjustments since that match and should be ready for Friday afternoon.
"We've made a lot of improvements on our game, blocking and defense. Being more square and over, defense being able to see behind the block," Samedy said. "When it comes to attacking, we've been more diligent about keeping the ball in play, getting it to the right players, having better shot selection. Just in general we've become more solid as a team."
Minnesota is filled with offensive talent of its own. Four players average more than 2.5 kills per set, while Taylor Morgan averages 2.44. Samedy averages about 3.45 kills per set, and Hart averages 2.94 per set. Adanna Rollins (2.55 per set) and Regan Pittman (2.57 per set) add even more depth to the offensive attack, one of the best in the country.
McCutcheon says it's about embracing the opportunity in front of them, while focusing on the task at hand. After all, home court is meaningless if you don't protect it.
"As much as we know what we want, we don't want that to get in the way of what we have to do to get there. So just try to manage this thing as best we can point to point, set to set, whatever it is. Match to match, that's what we're going to try to do," McCutcheon said. "And understanding that there's still a ton of work ahead. There's four really good teams coming in here this weekend. It should be some great volleyball."
The Gophers are dominant on their home court. They'll be tough to stop, but it doesn't mean anything when the two teams hit the court Friday afternoon. The players have talked about the excitement of playing both at the Pavilion and at home in the Final Four, but there's still a lot of work to do to get there.
"The Pav is a sacred land. You come down here and no one is going to come and mess with us. Hugh always talks about that it's got to get personal at some point. Here at The Pav, it's always personal," junior middle blocker Taylor Morgan said. "You're not going to come from wherever you guys came from and take something from us here. We're going to battle you at your place too, but don't come here and try to take something. You mess with the bull, you get the horns."