Oregon denies Gophers volleyball trip to Elite 8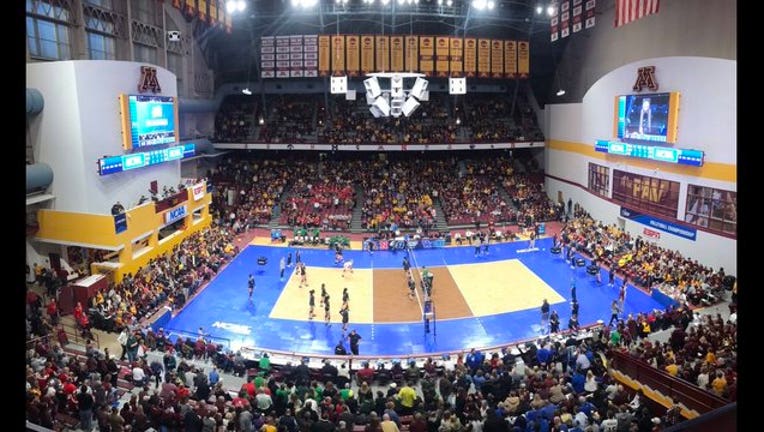 MINNEAPOLIS (FOX 9) - The Gophers' volleyball team was hoping to get some revenge on an early season loss and get one step closer to the NCAA Final Four Friday night.
Instead, No. 15-seeded Oregon had every answer for the No. 2-seeded Gophers after the first set in their Sweet 16 match and ended Minnesota's Final Four hopes with a victory in four sets, 21-25, 41-39, 25-14 and 26-24.
The Ducks, who are now responsible for two of Minnesota's four losses this season, advance to play No. 5-seeded Nebraska on Saturday for a trip to the Final Four.
Minnesota's season ends in heartbreak with a 27-4 record. The Gophers had their chance to play in a Final Four in their backyard at Target Center denied. Minnesota had been 61-2 in matches at the Sports Pavilion since 2015 but it didn't matter Friday night. It's a bitter way to swallow their third loss.
The match was virtually determined in the second set. It featured 25 ties, 11 lead changes and 14 chances for a set point between the two teams. The set went 30 extra points before Oregon pulled away for a 41-39 victory. Samantha Seliger-Swenson thought she had gotten under a ball for a dig that led to an Alexis Hart kill to win the marathon set. But Oregon used its challenge, saying the ball hit the floor.
"I thought it was critical and I didn't think we responded particularly well. Sam was pretty confident she pancaked that ball and that we got it. We thought we'd won it, a little bit of a bait and switch there," Gophers coach Hugh McCutcheon said. "We got our hearts broken a little bit and it took us a little while to recover. The third set was indicative of that."
Oregon would've otherwise lost the challenge had it not been used. The call was overturned to favor the Ducks, and it was an emotional swing the Gophers couldn't overcome.
"It was disappointing thinking that we had that in the bag. It was a really long, hard-fought set," Seliger-Swenson said.
The Ducks took the momentum from there, scoring the first five points of the third set. Minnesota was never really competitive in the set, losing 25-21 and falling behind 2-1 in the match with their season hanging in the balance.
The Gophers got out to a 4-0 lead in the fourth set and appeared poised to send the match to a fifth set with a 22-19 lead late. But Oregon fought back with a run to tie it 23-23, and rallied to win the match 26-24.
"Overall the body of work with our team was impressive. It's still a phenomenal season for us even though it's not the end all of us wanted," McCutcheon said.
August Raskie kept Oregon's offense in control with 60 set assists on 64 attempts. Ronika Stone led the Ducks with 20 kills and Lindsey Vander Weide added 17.
Samantha Seliger-Swenson's Gophers career ends with 55 set assists on 61 attempts. Alexis Hart led the Gophers with 20 kills, and Alexis Hart added 17. But Oregon's defense had answers for Minnesota's offensive attack after the first set for the rest of the match.
"That's a scrappy team right there and they played with a lot of emotion. They were just playing volleyball, they were doing what they're supposed to do," junior middle blocker Taylor Morgan said. "You're supposed to dig a ball. We've seen it all throughout the Big 10 and in this entire tournament."