Wild signs former Edina, Gophers star Sammy Walker to entry-level deal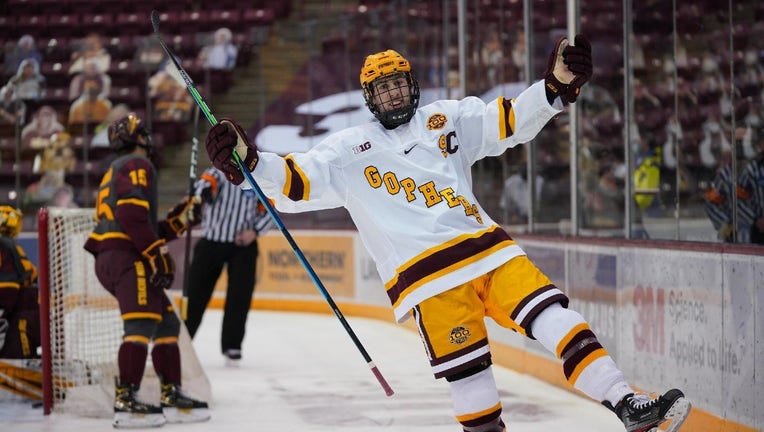 article
MINNEAPOLIS - Minnesota Wild general manager Bill Guerin announced on Thursday the team has signed former University of Minnesota winger Sammy Walker to an entry-level contract.
Walker, 23, record 112 points, including 48 goals, in four seasons with the Gophers. The Edina native had 27 points, 14 goals and 13 assists, last season as the Gophers finished 26-13 and made a run to the NCAA Frozen Four, its first since 2014. Walker was a three-year captain for Minnesota, the first time that's happened in the history of the program.
"It's unbelievable and it's obviously super special. I guess just something about always have been playing in Minnesota, and growing up here, living here my whole life. Just to have this opportunity is unbelievable and super exciting," Walker told reporters via Zoom Thursday afternoon.
He had a career-high four game-winning goals and led Gophers' forwards with 25 blocked shots. He helped lead Minnesota to a Big Ten regular season title last season, and a Big Ten Tournament title in 2021. Walker had the option to come back to the Gophers for one more season, with an extra year of eligibility due to the COVID-19 pandemic, but said it was time to take the next step.
"I've had four years and I was kind of just ready for that next step and that next challenge. I was ready to take that next step in my career. My time with the Gophers was unbelievable and it would've been a blast to have another year. Me personally, I felt like this was best for me and my career," Walker said.
Walker was second on the Gophers in scoring his junior year with 29 points, and led Minnesota as a sophomore with 30 points. He had 26 points his first year, and was named the Big Ten Freshman of the Year. He was also named Mr. Hockey in 2018 after collecting 79 points, including 35 goals, in 31 games during his final season at Edina.
He'll be teammates again with Brock Faber, and his hockey experience now goes full  circle, playing hockey at every level for the hometown team.
"It's unbelievable. Pretty crazy just living here and growing up going to the games. Obviously my family is super pumped for me, super exciting time for sure," Walker said.