Wild open NHL playoffs with 1-0, OT win over Vegas Golden Knights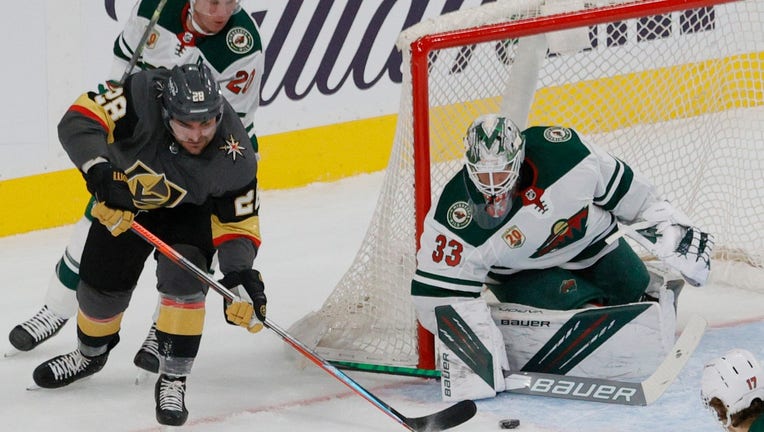 MINNEAPOLIS - The game plan was clear Sunday afternoon as the Minnesota Wild opened the Stanley Cup Playoffs at the Vegas Golden Knights: Play physical, ride a hot goaltender and when there's a scoring chance, take advantage of it.
The Wild escaped a dominant first period by the Golden Knights without allowing a goal, got a 42-save shutout from Cam Talbot and Joel Eriksson Ek scored the game-winning goal in overtime as Minnesota beat Vegas 1-0. They overcame a 29-save performance from Marc-Andre Fleury, and didn't get flustered when he kept gloving high-quality scoring chances over the final two periods.
The Wild got what's often so hard to get in the playoffs, in front of nearly 8,700 fans at T-Mobile Arena: A road playoff win.
"That's exactly the way we want to play. The longer it stays scoreless, it definitely favors us. We bent in the first period, but we didn't break," Talbot said. "We knew they were going to have a good push and come out hard, we weathered the storm."
Talbot was the main reason the two teams were deadlocked in a 0-0 tie after 60 minutes of regulation. The Wild got its momentum back after the Golden Knights out-shot them 19-5 in the first period, but didn't have a goal to show for their dominant first 20 minutes.
Talbot recorded his fifth career shutout in the Stanley Cup Playoffs, and his 42 saves Sunday were the most by a Wild goalie all-time in a shutout.
"Not a surprise. His compete, his professionalism, it's unbelievable. He's just a real solid pro and it filters down to the group," Wild coach Dean Evason said.
The Wild had several quality scoring chances from Kirill Kaprizov, Ryan Hartman and Ian Cole gloved by Fleury in the third period. Minnesota finally got the game-winner 3:20 into overtime, just after a man advantage had expired.
The Golden Knights couldn't get a puck cleared, Jordan Greenway gathered it and put a pass out in front of the net. After a deflection from Marcus Foligno, it landed on Eriksson Ek's stick. His wrist shot beat Fleury for his 20th goal of the season, and second game-winner this season. A celebratory locker room blared loud music after a big win.
"This is the most fun time to play at. Playoffs, a lot of people in the stands too, you just get that extra energy playing in front of fans. How big the games are, it's fun," Eriksson Ek said.
It was Eriksson Ek's first career playoff overtime goal, and his first overtime goal since entering the NHL in 2016.
"Probably the most excitement you're going to see out of him, right? We just watched it and you don't see Ek do that very often," Evason said. "Obviously it was a big moment, but he does everything for us so great to get rewarded."
It's only one game, but the Wild did Sunday what teams have to do to make a playoff run. They played physical, dishing out a franchise-record 71 of the game's 128 hits. Foligno and Greenway combined for 21 hits. 
They also sacrificed their bodies, laying out to block shots. The Wild had 23 blocks Sunday. While not on a shot attempt, Cole made the play of the third period, diving to deflect a pass that would've been a tap-in goal for Marc Stone.
The two teams are back at it Tuesday night, and the Wild hope it's just the start of something bigger. They haven't won a playoff series since beating the St. Louis Blues in 2015.
"This is just the start for us in this series. We feel there's definitely more that we can do. We're going to build off that. We've got a lot more to bring but I think for Game 1, we did a lot of good things," Greenway said.