Addison, Bynum lead Vikings to 22-17 win over 49ers on Monday Night Football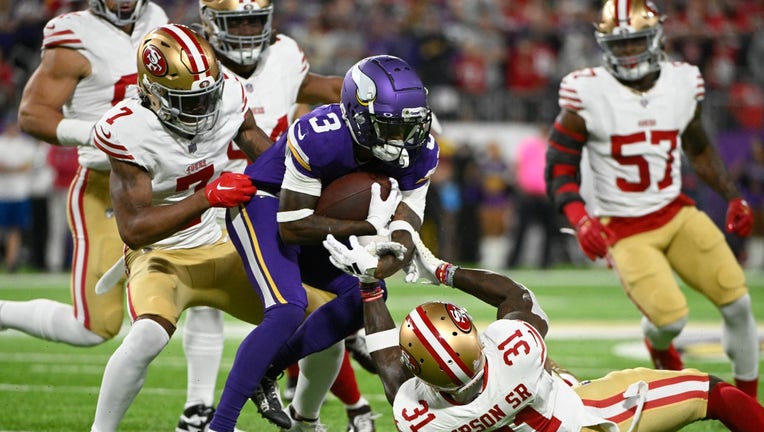 article
MINNEAPOLIS (FOX 9) - The Minnesota Vikings picked a heck of a night for their first win of the 2023 season at U.S. Bank Stadium.
Kirk Cousins passed for 378 yards and hit rookie Jordan Addison for two touchdowns. The Vikings' defense made enough plays and forced three turnovers, two on interceptions from Cam Bynum, and Minnesota improved to 3-4 on the season with a 22-17 win over the San Francisco 49ers.
For the second straight week, Cousins said the team played Creed's "Higher" in the locker room pregame. He was getting his ankles taped while Garrett Bradbury was getting body work done. They went for team prayer, and as they were set to turn the music down, safety Harrison Smith pointed to the music and said, "This is the prayer."
Cousins got his third win on Monday Night Football.
"I gotta say it, Creed. Garrett Bradbury is doing some body work next to me and he goes 'Forget this, I gotta go enjoy this with the boys.' I thought that's pretty good. They keep playing 'Higher.' They're taking us higher, so we'll take it," Cousins said after the win.
The Vikings entered the night 0-3 at home, and seven-point underdogs. The 49ers came at 5-1 and one of the best teams in the NFL, averaging 30 points per game and allowing just 14. With Justin Jefferson out, Addison and T.J. Hockenson rose to the occasion. Addison had seven catches for 124 yards and two scores, and notched his first career 100-yard game. Hockenson had a team-high 11 catches for 86 yards.
Addison's first score gave the Vikings a 7-0 lead in the first quarter. His second came on a massive play near the end of the first half, ripping the ball away from Charvarius Ward and running in from 60 yards out to give Minnesota a 16-7 lead at the break. It came after Christian McCaffrey scored to cut the Vikings' lead to 10-7.
"This is exactly what I envisioned. Every time the ball came my way, I'm just trying to get a play for Kirk," Addison said.
"Jordan Addison's play before the half was a game-winning type play. I thought it was getting picked, I still don't know how Jordan came away with it. A big-time play by Jordan," Cousins said.
It came after Ward ripped the ball away from Addison for an interception in the first quarter. This time, it didn't snowball on the Vikings as they forced and recovered a McCaffrey fumble.
"The way it did start, it would've been very easy for a lot of groups to say 'Here we go again, not against this team. We better pack it in and get ready Green Bay next week,'" Vikings coach Kevin O'Connell said. "There wasn't one person collectively on our sideline that didn't feel like we were going to find a way to capture that momentum back, capture the lead back and then didn't give it up."
Addison now has touchdowns in three straight games, four over that stretch and six on the season. He showed why the Vikings invested a first round pick in him six months ago.
"We ask him to do a lot, he did a lot for us tonight. You just take that end of half play that he makes, for him to make that play on that ball, a game-changing play. Jordan has been everything that I hoped for," O'Connell said.
Greg Joseph added three field goals on the night, but also missed from 50 yards out with 1:16 to play to give the 49ers one more shot. Bynum's second interception of the game sealed a massive Vikings' victory. He also led the defense with nine tackles.
"It didn't feel real. I honestly thought I got an illegal contact downfield. I kind of hit the receiver a little, I jumped a little early like the play against the Chiefs. Thankfully I was able to get the pick and really shut it down for the whole game," Bynum said. "Really making a movie, that's the best ending. You can't imagine it."
While Addison and Cousins were the story on offense, the defense limited the 49ers to 325 total yards, and McCaffrey ran for just 45 yards on 15 carries. Danielle Hunter also got a sack and now leads the NFL with nine on the season. It's also the 80th of his career.
In addition to creating two turnovers, Bynum was a bit of a choreographer with celebrations after each takeaway. One was a human limbo, another in the form of Duck, Duck, Gray Duck, the Worm and posing for pictures after a big play.
"That's one thing we corrected and we made sure we do moving forward from last week. We realized we weren't having as much fun as we should have," Bynum said. "I was planning stuff before and making sure if we make a play, we gotta have fun with it. That sets the mindset, let's make plays so we can have fun."
The Vikings didn't allow a sack the entire game against one of the best defensive fronts in football, and their only punt came late in the fourth quarter.
The Vikings avoided the team's first 0-4 home start in franchise history, and can get back to .500 with a win at Green Bay next Sunday. They've won three of their last four games after an 0-3 start. They're also now back in sole possession of second place in the NFC North, with five division games left to play. To this point, it's easily their best game of the season.
"I talked a lot to you guys and our team about still chasing that performance that we feel like is inside that locker room, that we feel like we can collectively do regardless of circumstance. Tonight is about these players. Hopefully we can build on this," O'Connell said.