Vikings hold off Saints 27-19 behind Joshua Dobbs' big first half, win 5th straight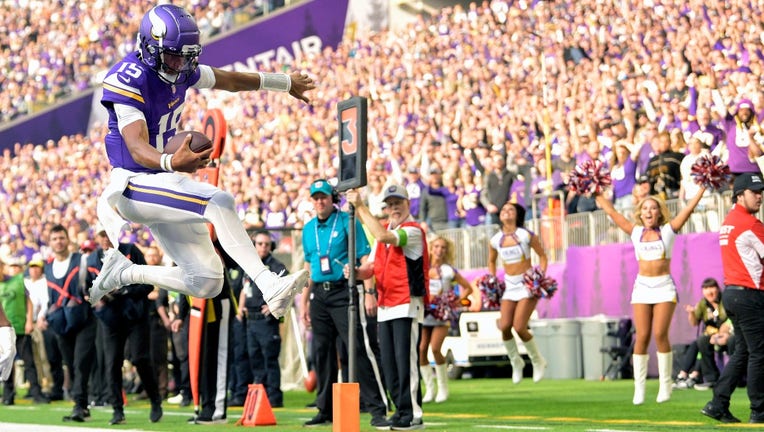 article
MINNEAPOLIS (FOX 9) - It's never easy for the Minnesota Vikings, but they've won five straight after a 27-19 victory over the New Orleans Saints on Sunday at U.S. Bank Stadium.
They're now 6-4 and have won six of their last seven games after an 0-3 start. For at least a half, it was Joshua Dobbs' world, and we were all just living in it. Five days after being traded to the Vikings, Dobbs led a game-winning touchdown drive in the final two minutes of a 31-28 win over the Atlanta Falcons last week. Sunday, Dobbs put on a show in his first start with the Vikings, as Jaren Hall was out with a concussion. Dobbs accounted for 312 total yards and two touchdowns. He had 260 total yards and both scores in the first half.
"I thought he had a fantastic week of practice. Thursday and Friday, you would've thought he had been in our offense for a lot longer," Vikings coach Kevin O'Connell said after the win. "He attacked the game plan, he handled a full game plan today and it was Josh Dobbs out there playing quarterback."
Dobbs spent most of this week at TCO Performance Center with his head buried in a playbook when he wasn't busy practicing or fulfilling media requests. He finally found a place to live and moved out of the team hotel on Friday. He even met a few former Vikings' legends in town for the game Friday night, and crashed an offensive line team breakfast. He's been in Minnesota 11 days, but has led the Viknigs to two wins.
"I'm not paid by the hour, so I have nowhere else to be. I probably ate every meal every day there. I'm blessed to be in the position I am, no stone will not be turned over," Dobbs said.
He was 23-of-34 passing for a career-high 268 yards, and a 28-yard touchdown to T.J. Hockenson that gave the Vikings a 24-3 lead at the half. Maybe his most impressive play Sunday gave the Vikings a 17-3 lead with 3:30 left in the second quarter. With no receivers open and the pocket collapsing on 3rd-and-6, Dobbs took off and made several Saints' defenders miss on the way to winning the race to the pylon for a touchdown.
"When that happens, the O-line all day allowed me the opportunity to go through my reads, stay in the pocket and when the opportunity presented itself, be able to utilize my legs and make plays," Dobbs said. "See everything was covered and from there, it's just go make a play. Big play in the game."
Both Dobbs and O'Connell shrugged their shoulders in an "I don't know" fashion after the impressive display of athleticism. Dobbs finished with 44 yards on the ground, and can make O'Connell look good as a play-caller with his ability to extend plays.
"A lot of times I like to fist pump with the best of them but that was one where I was just kind of like, 'Wow.' When a guy makes a play like that, it's exciting," O'Connell said. "He just overcame a lot with an individual effort to finish it for six points. That's been a part of his game since he's been an NFL quarterback."
Hockenson had 11 catches for 134 yards and a score. All but one of those catches, and the touchdown, went for 126 yards in the first half. He did so battling a rib injury, and taking a few hits to his low back.
"I thought T.J. Hockenson was as good as I've ever seen him when we needed him the most," O'Connell said.
"A lot of it is the people around me. I just want to play for this team, I love these guys in this locker room. At the end of the day, a win helps every bruise," Hockenson said. "Josh was on a mission, and you've got to love that. Josh and I were on the same page, that was a lot of fun. I'm going to be honest with you, I kind of blacked out."
Ty Chandler added 15 carries for 45 yards, and gave the Vikings an early 10-3 lead with a short touchdown run out of the wildcat formation.
The Vikings' defense did its part, limiting Derek Carr to 13-of-18 passing for 110 yards before he left the game injured in the third quarter. The Vikings limited the Saints to just 65 rushing yards, collected three sacks and held them to 4-of-14 on third down. They also forced two turnovers.
The Saints made it a game with a pair of Jameis Winston touchdowns. The first to Chris Olave got New Orleans within 27-11 in the third quarter. The second, to A.T. Perry with 11:40 to play, got the Saints within 27-19. But the Vikings defense had the answer, with Mekhi Blackmon and Byron Murphy Jr. each intercepting Winston on deep passes in the fourth quarter.
But the story of the day was Dobbs, who is quickly giving the Vikings' front office something to think about as they evaluate their quarterback situation going forward. He entered Sunday's game 1-9 as a starter, but used his mobility and athleticism to lead Minnesota to its sixth win of the season.
The Vikings won their fifth straight without star receiver Justin Jefferson, and were also without K.J. Osborn. Jordan Hicks missed most of the second half with a lower leg injury, Akayleb Evans left with a calf injury and Alexander Mattison was knocked out with a concussion.
The second half wasn't the prettiest, but the Vikings are 6-4 and are firmly back in the NFC Playoff race with seven games to play. They've come a long way from a 1-4 hole. O'Connel remembers addressing the team after they started 0-3.
"The sky was never falling to those guys in that locker room. I can remember the message was I felt all of us together working forward to accomplish something special was one of the greatest opportunities we would have," O'Connell said. "If you look at it as an opportunity, I am of the belief that we can continue to go out and write our own story."
The Vikings are in the No. 7 spot in the NFC and are still trying to chase down the Detroit Lions in the NFC North.