Minnesota Lynx looking to 'punch some people in the mouth' in 2023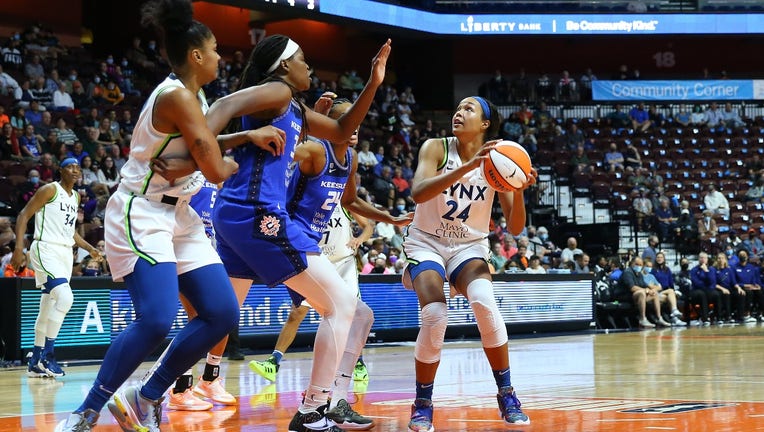 article
MINNEAPOLIS (FOX 9) - If there's a Minnesota sports team that knows a championship standard, it's the Lynx. The local WNBA franchise has won four championships – 2011, 2013, 2015 and 2017.
But since then, the Lynx have had early playoff exits in 2018, 2019 and 2021. Last year, they missed the postseason for the first time in 12 years, finishing with a 14-22 record after starting 0-4 and losing six of their first seven games. Cheryl Reeve and players said all the right things Wednesday as the Lynx turns its focus to 2023.
"Last season was the one that was unacceptable to us," Reeve said.
It was the final WNBA season for Sylvia Fowles, and she didn't get a chance at the posteason. Part of it was the absence of Napheesa Collier, who missed most of the year pregnant with her first child. She was back by the end of the regular season, but it was too late.
The Lynx have been led by a slew of star players during their title runs – Lindsay Whalen, Maya Moore, Seimone Augustus, Rebekkah Brunson and Fowles. Now, the franchise centers around Collier.
"I'm energized and enthused by having someone like Napheesa Collier be the player that we're building around. I think I'm energized by that," Reeve said. "I'm looking forward to her journey as a captain of our team."
Collier is ready for the new challenge of being the face of the team.
"I'm really excited about it and I'm trying to take it in stride. Just be the best leader that I can be. Now it's my turn to show them what I've learned," Collier said.
She's already got a chip on her shoulder, after being asked about expectations for 2023. The Lynx are not being talked about among title contenders.
"The chemistry that we're already beginning to build is really special. Also just exceeding expectations this year, I don't think people have a lot for us, but I know what we're going to be about," Collier said. "It's going to be fun to come out here and punch some people in the mouth."
She's got talent around her, including a former All-Star in Kayla McBride. The Lynx also drafted Maryland guard Diamond Miller No. 2 overall.
"Her athleticism is maybe beyond any player I've ever coached. Diamond's persistence, her competitive drive, those things we knew she would have. Now to spend more than a week with us, she's not lost… yet. Diamond does not look like a rookie," Reeve said.
So what's a fair expectation for the 2023 Lynx? While teams are ultimately judged by wins and losses, it's about a lot more than that for Reeve.
"Maybe for the first time in a long time, probably for the first time in my head coaching career, I have so much more perspective about a team and where it's at. Looking at it that way, we're less focused on the outcomes, wins and losses," Reeve said. "The way we're looking at it is so much more forward-thinking and developing. The realistic expectation that I want to put on them is to be the best version of this team's self. How we go about our business and how we treat each other, those are things that I define successful."
The Lynx already have a preseason win under their belt, and travel to Canada on Saturday to face the Chicago Sky. Minnesota's regular season opens on May 19, hosting the Sky at Target Center.