Minnesota hockey champs to get traveling trophy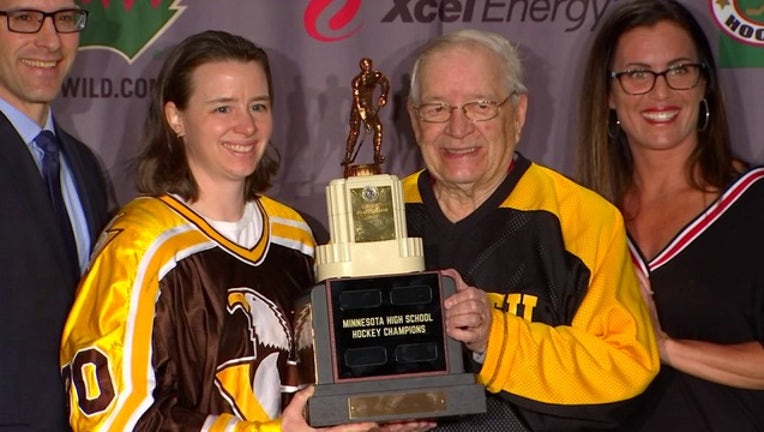 ST PAUL, Minn. (FOX 9) - Minnesota's high school hockey state champions this year will get to emulate their NHL counterparts with a traveling trophy.
It's tradition every year that the Stanley Cup trophy travels, a lot. Each player on the winning team gets at least one day with Lord Stanley's Cup, to do with it what they wish.
The Minnesota State High School League, in conjunction with the Minnesota Wild, unveiled a traveling trophy on Tuesday. The Eveleth Trophy will travel and spend time with the communities of the Class A and AA boys and girls state champions in 2019. After all, it is the State of Hockey.
"This symbol of tradition and from the beginning as we carry forward is going to be permanent tribute to the great work that happens throughout all of our schools and especially the excitement that goes along with each one of these tournaments," MSHSL Executive Director Erich Martens said.
The trophy is named after the Eveleth Golden Bears, the first state champions in 1945. Using the same hardware from the 1940s, the trophy was redesigned to commemorate anniversaries this year for both the Boys and Girls State Tournament. The girls tournament is in its 25th year, and the boys tournament is in its 75th year.
 "We hope we'll go down like the Stanley Cup and it will be passed around to the different communities and recognized. Not only this year, but in the years to come," Mike MacMillan with the Minnesota Hockey Coaches Association said.
The Girls State Hockey Tournament starts Wednesday at Xcel Energy Center. The Boys State Hockey Tournament is March 6-9, also at Xcel Energy Center.