Minnesota Gophers upset Green Bay in NCAA Tournament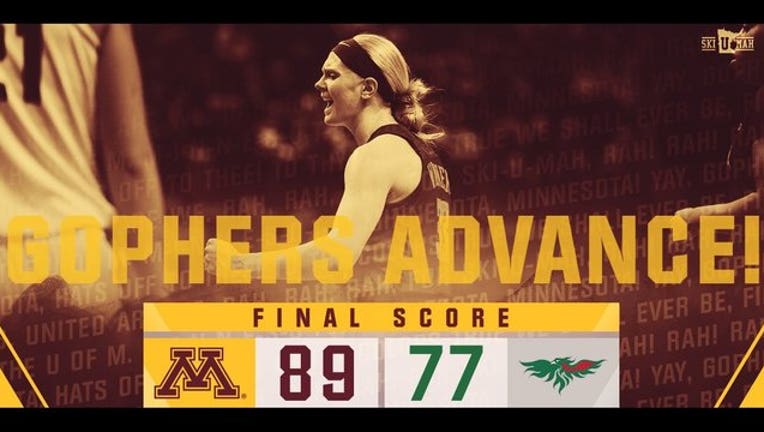 article
EUGENE, Ore. (AP) -- Kenisha Bell scored 24 of her 26 points in the second half to lead No. 10 seed Minnesota to an 89-77 victory over No. 7 Green Bay in the first round of the women's NCAA Tournament on Friday.
Destiny Pitts, the Big Ten freshman of the year, added 20 points for the Golden Gophers (24-8), who will play either Oregon or Seattle in the second round of the Spokane Regional on Sunday.
Minnesota outscored the Phoenix (29-4) 30-13 in the fourth quarter, with half the points coming at the foul line. The Golden Gophers made 22 of 23 free throws in the second half and 25 of 29 overall.
Gadiva Hubbard had 16 points and Carlie Wagner 15 for Minnesota, which shot 27 of 59 (46 percent) for the game and 10 of 18 from 3-point range. The 89 points were nearly twice what Green Bay gave up as the nation's scoring defense leader at 46.1 points per game.
Allie LeClaire and Jessica Lindstrom, the Phoenix's only seniors, had 17 and 11 points, respectively. It was the fourth year in a row that Green Bay was ousted in the first round.
Lindstrom had eight rebounds to lead the Phoenix to a 39-33 edge on the boards. Jessie Edwards, who had 12 points off the bench, led Minnesota with nine rebounds and Pitts had eight. 
After giving up six 3-pointers in the opening quarter and trailing 22-17, Green Bay pushed its man defense beyond the arc and limited the Golden Gophers to 4 of 16 shooting in the second period. The Phoenix went ahead on LeClaire's 3 and finished the half on a 17-5 run to take a 42-32 lead into the break after outscoring Minnesota 25-10 in the quarter.
Green Bay held the Golden Gophers without a field goal for the last 3:14 of the second quarter. The Phoenix owned the boards to that point, 27-14, including 11 offensive rebounds.
BIG PICTURE
Minnesota: With only two players, seniors Carlie Wagner and Bryanna Fernstrom, having NCAA Tournament experience, the Golden Gophers improved to 7-3 all-time in first-round games. Minnesota is the third-highest scoring team in the nation at 85.2 points per game, behind only UConn and Baylor
Green Bay: The 22nd-ranked Phoenix were in the tournament for the ninth time in 10 years but fell to 6-18 in 18 appearances. They are now 2-12 under coach Kevin Borseth
STAT OF THE GAME
Minnesota scored 57 points in the second half against a team that had allowed more than 70 points in a game just once this season.
UP NEXT
Minnesota moves on to play either No. 2 seed Oregon or No. 15 Seattle on Sunday in the second round.
Green Bay reloads again after losing its two leading scorers, Lindstrom and LeClaire, to graduation.