Gophers pull away for 35-24 Homecoming win over Louisiana, improve to 3-2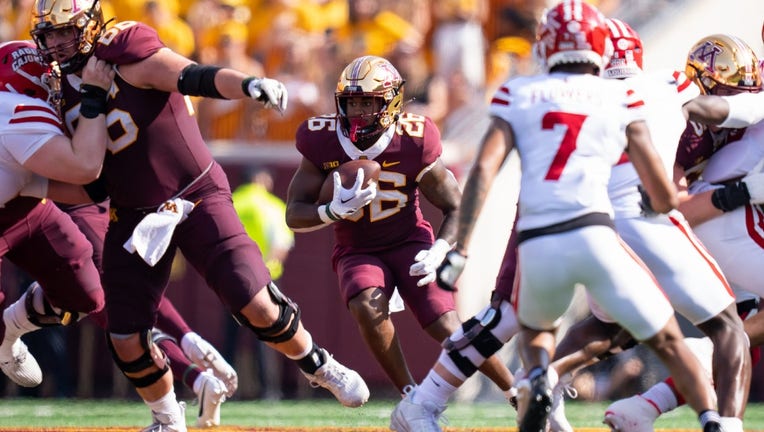 article
MINNEAPOLIS (FOX 9) - It wasn't the prettiest or flashiest at times, but the University of Minnesota football team beat Louisiana 35-24 on Saturday at Huntington Bank Stadium to improve to 3-2 on the season.
The Gophers put a close on a two-game losing streak, and won on Homecoming for the first time since 2019. Minnesota lost to Purdue on Homecoming last year, and Bowling Green two seasons ago. After blowing a three-touchdown lead in an overtime loss at Northwestern last week, it was a badly-needed win for Minnesota. 
P.J. Fleck did not have his team practice on Sunday like normal. Rather, they watched film and just talked. He wanted to make sure his players were in a good mental state after such a devastating loss.
They responded Saturday.
"We knew this was going to be a challenge, simple as that. I don't think this team is going to get enough credit for the rebound and response to what happened last week. I don't think everybody understands how hard that was for that group of young men," Fleck said. "On Sunday we didn't do anything, we just talked. We changed our entire plan just to make sure they were good. Sometimes you need to be able to take a deep breath and trust your players."
Fleck might have also found a new running back option in Saturday's win. With Darius Taylor out due to injury, Zach Evans saw his first action of the season.
Evans had 15 carries for 85 yards, averaging 5.7 yards per attempt and had an 18-yard touchdown in the third quarter that gave the Gophers a 21-17 lead they wouldn't give back. Evans waited his turn behind Taylor, Sean Tyler and Bryce Williams to get his chance.
"Nobody did anything wrong in our running back room. Competition is competition, and consistency is when everybody is pretty good, it comes down to who does it just a little bit better with more consistency. Everybody wants to play, but are you ready when your opportunity comes? If you're not ready and it comes, you probably won't get many more opportunities," Fleck said. "Zach Evans took huge advantage of that today. "
Athan Kaliakmanis was 12-of-14 passing for 146 yards, two touchdowns to Daniel Jackson and an interception. Kaliakmanis also scored on a quarterback sneak.
Williams scored from two yards out to give the Gophers a 28-17 lead early in the fourth quarter, and the defense stepped up with a big second half after tough outings at North Carolina and Northwestern. Minnesota allowed 138 yards in the second half, 52 on a Louisiana touchdown run with three minutes to play, and got interceptions from Tyler Nubin and Jack Henderson. The Gophers allowed 349 total yards after giving up nearly 500 at Northwestern, and 519 at North Carolina.
Henderson, a Louisiana native, was especially excited for Saturday's game. He had about a dozen family and friends in attendance. In five games, he's second on the defense with 30 tackles and now has two interceptions.
"I'm not sure why, but man I was so pumped pregame. I was trying to contain all my excitement, but it definitely meant a lot to me. Even got some Mardi Gras beads before the game," Henderson said.
The Gophers put the game away with just more than five minutes to play. Facing a 4th-and-3 in Louisiana territory, Fleck went for it and Kaliakmanis hit Jackson for a 37-yard touchdown and 35-17 lead with 5:21 to play. Last week, Fleck was in almost the same spot with a seven-point lead at Northwestern, punted and the Wildcats scored to force overtime.
"It was such a defining moment, we were put in the same position to go win the game. Northwestern, we came up a little short. But today, I'm just so proud of the guys the way we finished the game. You live and you learn, but I'm just so happy for the guys," Kaliakmanis said. "We all responded when the moment mattered. I love being in those situations."
The play was meant for Le'Meke Brockington, but the receiver had to be carted off the field in the second quarter due to a leg injury. Jackson took his spot on the play, and Fleck said it was a route didn't run in practice all week.
"It was about ending the game, period. You put somebody in there like Daniel and he knows what to do. He didn't run that route one time in practice, not one time. But he knows what to do and stepped up in that moment," Fleck said. "Perfect play call for that perfect moment if you trust your players in the pressure of the situation. That's what they have to earn, have to go get."
"Sad to see my brother go down. That was Meke's touchdown. I ran that play for Meke," said Jackson, who finished five catches for 89 yards and two scores. 
Minnesota had five different ball carriers run 51 times for a combined 201 yards. In addition to Evans, Williams had 15 carries for 51 yards, Tyler had 10 carries for 47 yards and Kaliakmanis ran 10 times for 17 yards. The Gophers averaged 3.9 yards per carry. 
Fleck came into Saturday's game 6-38 for his career when trailing at half. He now has seven after the Gophers trailed 17-14 at the break. The Gophers were without Cody Lindenberg due to injury for the fifth straight game, and also did not have Chris Autman-Bell available.
The Gophers (3-2, 1-1) get back to Big Ten play for the rest of the season, starting with hosting No. 2-ranked Michigan next Saturday night.