Gophers dominate Colorado 49-7 to start 3-0, lose Chris Autman-Bell to injury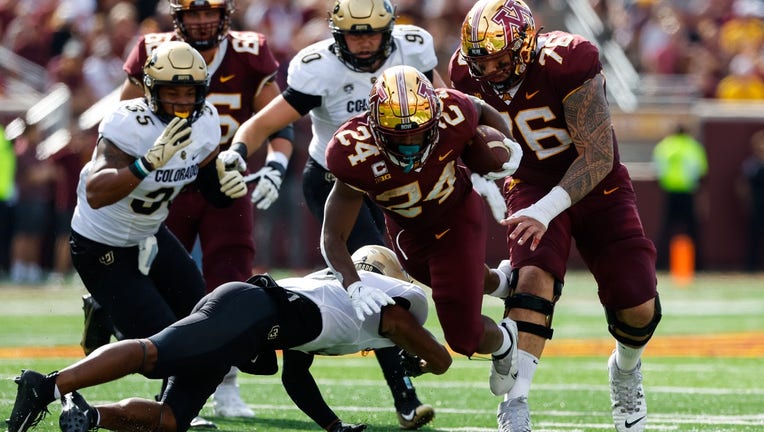 MINNEAPOLIS - Mo Ibrahim had a career day as the University of Minnesota football team closed out the non-conference schedule undefeated with a dominating 49-7 win over Colorado on Saturday at Huntington Bank Stadium, but it might have come at a cost.
Gophers top receiver Chris Autman-Bell left the game in the first half with what appeared to be a significant injury to his right knee. Autman-Bell had three catches for 58 yards, including a 39-yard touchdown from Tanner Morgan, before exiting. It happened late in the second quarter as he tried to jump for a catch, landed on his right leg and immediately grabbed for his right knee, writhing in pain on the turf. He was down on the field for several minutes before exiting with the help of two trainers, unable to put much weight on the leg.
He didn't return, and was not on the sideline for the second half. PJ Fleck said after the game Autman-Bell was at the hospital getting images.
"It's unfortunate, he's a big member of this football team. I'd be lying to you if I said he wasn't. He's one of the most integral parts of what we do and how we do it, on and off the field. No matter what, he'll put his oar back in the water, whether we get him back or don't," Gophers coach PJ Fleck said after the win. "This is college football, this is the hardest part. It's hard to see a teammate laying on the ground like that."
Minnesota took control of Saturday's game from the opening kickoff. Ibrahim had 20 carries for 179 yards and three touchdowns in the first half, averaging nearly nine yards per carry, as Minnesota took a 35-0 lead into the locker room. He moved up to fifth all-time in rushing yardage, and is tied with Darrell Thompson at 40 career rushing touchdowns. Ibrahim now has seven on the season, and his first two Saturday came less than a minute apart in the first quarter. He finished the day with 23 carries for 202 yards, a school record fourth career 200-yard game and 12th straight 100-yard game. Most Gophers' starters were pulled in the third quarter.
It took Thompson 44 career games to hit 40 touchdowns. Ibrahim? He played his 31st game on Saturday.
"DT is important to him, DT is important to this program. What DT did in this program is important to us. I know Mo, he's something else," Fleck said. "I'm just glad he's on our team."
"DT, he was a big part of Minnesota history so just to be tied up with him is amazing. It says a lot about our team getting me to the end zone," Ibrahim said.
A little more than a year removed from a torn Achilles, Ibrahim leads the Gophers with 468 yards on the ground through three games. He's averaging 154.6 yards per game.
Fleck was most impressed with Ibrahim's final touchdown of the first half, which gave the Gophers a 21-0 lead. He scored from 18 yards out, following his offensive line, and barreled through most of the Colorado defense to get there.
"You saw that push of the pile, that's what our program is about. If you could take a video and say what is Gopher football, take that one. That is the DNA of this football team," Fleck said.
Is it time to start entering Ibrahim's name in the Heisman Trophy talk? His next touchdown will put him atop the Gophers' record books.
"That was pretty cool, huh? He's got my vote for sure. I've got the best seat in the house when 24 gets the ball, it's pretty fun," Morgan said. "I didn't even know he had the 40 until in the hallway, that's so cool. He's just whatever about it, that's the kind of teammate he is."
Morgan finished the first half 9-of-14 for 131 yards, touchdowns to Autman-Bell and Dylan Wright, and an interception after a pass to Brevyn Spann-Ford was bobbled. The Gophers out-gained the Buffaloes 349-39 in the first half, limiting Colorado to just three first downs. Minnesota got a sack and forced fumble from Terell Smith on the Buffaloes' first offensive play, and got another sack from Danny Striggow.
The third quarter started with Mariano Sori-Marin getting a fourth down pass break-up for a turnover on downs. The Gophers turned it into points, with Morgan hitting Clay Geary for an 8-yard touchdown and a 42-0 lead. Morgan finished the day 11-of-16 for 157 yards and three scores.
Bryce Williams put a bow on the day with a 22-yard touchdown run, untouched up the middle, to give the Gophers a 49-0 lead with 14:14 to play. Minnesota ran for 334 yards, averaging 6.4 yards per carry. The Gophers out-scored their three non-conference opponents 149-17, and out-scored the Buffaloes 79-7 over two games after getting a 30-0 win in Boulder last year. It's the first time the Gophers have opened a season with three straight wins by at least 38 points since 1916-17.
The Buffaloes ended Minnesota's bid for a shutout with a touchdown with 8:55 to play, and the Gophers' reserves in the game. The Gophers out-gained Colorado 500-227, and limited the Buffaloes to 1-of-11 on third down. The Gophers' starting defense has allowed just three points in three non-conference games.
"We know what we're capable of and three points isn't acceptable. We know that we have to continue to get better in a lot of areas. Our preparation, our execution has to continue to get better," Sori-Marin said.
The Gophers wrap up the non-conference season 3-0 and will be underdogs for the first time this year next Saturday, opening Big Ten play at No. 11-ranked Michigan State.