Gophers blow 31-10 lead in 37-34 overtime loss at Northwestern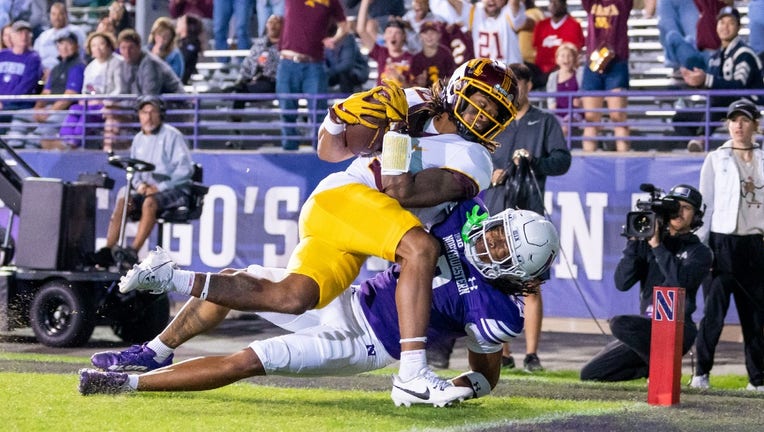 article
MINNEAPOLIS (FOX 9) - The University of Minnesota football team is 2-2 on the season after a 37-34 loss to Northwestern Saturday night at Ryan Field.
The Gophers led 31-10 with 2:11 to play in the third quarter, only to have the Wildcats rally with 21 unanswered points to force overtime. Minnesota got the ball to start overtime, and settled for a field goal after Brevyn Spann-Ford dropped what would've been a touchdown. On the next play, Ben Bryant hit a wide open Charlie Mangieri for the game-winning touchdown.
"We called the game relying on what we normally rely on, and that unfortunately came back to bite us tonight. Playing really good defense, flipping field position, making people go long fields and they did. It's what we do really well and what we rely on 99 percent of the time. It came back to bite us today, that's why it's not 100 percent," Gophers coach PJ Fleck said after the loss. "You always look at yourself first as a head coach, what could you have done differently, what could you have done better? I'll start with me, but completely unacceptable in the fourth quarter, period. They went out there and got it done we didn't."
Fleck's second half coaching, and the Gophers' defense, were the biggest culprits in the loss. Minnesota gave up 315 of Northwestern's 492 yards in the second half, and touchdowns to Cam Porter, Bryce Kirtz and A.J. Henning, who had the game-tying score on a 12-yard pass from Ben Bryant with two seconds to play in regulation.
That drive started after the Gophers punted in Northwestern territory, and Quentin Redding inexplicably downed the ball as he was three yards deep in the end zone for a touchback.
Bryant finished 33-of-49 for 396 yards and four touchdowns. Kirtz lit up the Gophers with 10 catches for 215 yards and two touchdowns. The Wildcats were 1-2 entering the game and had an offseason marred by controversy over allegations of hazing and racism in the program that resulted in the firing of Pat Fitzgerald.
Darius Taylor led the Gophers with 31 carries for 198 yards and two touchdowns. Athan Kaliakmanis had a bounce-back game, going 14-of-19 for 191 yards and touchdowns to Daniel Jackson and Le'Meke Brockington. But Minnesota's only points of the second half came on a 43-yard run from Taylor on 4th-and-1.
Minnesota punted five times and settled for a field goal in the second half, aside from Taylor's score. The play-calling, offensive approach and defense all leave a lot to be desired as the Gophers return home to host Louisiana-Lafayette next weekend.
If the Gophers had any intentions of winning the Big Ten West this season, this was a game they could not afford to lose.