'Floyd is coming home': Gophers beat Iowa 12-10 in controversial finish at Kinnick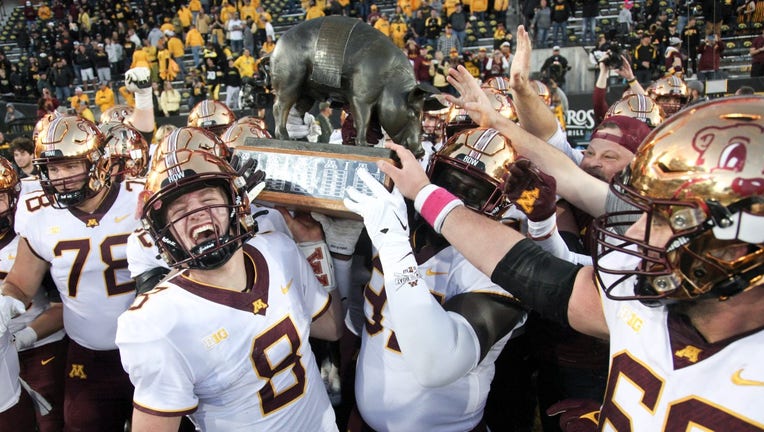 article
MINNEAPOLIS (FOX 9) - Floyd of Rosedale is coming back to Minnesota for the first time since 2014 after the Gophers beat Iowa 12-10 on Saturday at Kinnick Stadium in one of the more controversial finishes in the history of the rivalry.
The Gophers had a 12-10 lead with 90 seconds to play and punted the ball away. Cooper DeJean, the best punt returner in the Big Ten, made an improbable return for a go-ahead touchdown for the Hawkeyes with 1:21 to play. It was wiped away after DeJean was flagged for an illegal fair catch signal, attempting to tell his teammates to get away from the Mark Crawford punt by waving his left hand.
"I thought it was a fair catch signal. I'm not an official, but there was something. We've been called for that before where we've made any type of movement prior to the catch," Gophers coach P.J. Fleck said after the win. "If it wasn't, that was a heck of a play by the kid."
Minnesota sealed the game three plays later, as Justin Walley intercepted a pass overthrown by Deacon Hill. Iowa fans at the game disagreed with the flag, and started throwing trash on the field.
It's Minnesota's first win in the series in nine years. It's the Gophers' first win at Kinnick Stadium since 1999. It's Fleck's first win over the Hawkeyes in eight tries as a head coach. The Gophers improve to 4-3 on the season, 2-2 in Big Ten play. Fleck no longer has the Iowa cloud hanging over his head, and Floyd is on the team bus back to Minneapolis.
"It's a big win for our state, our university. We haven't won here in Kinnick since 1999, I was in high school. Any Gopher, this is a wonderful night for everybody and I hope everybody celebrates that Floyd is coming home safely and responsibly, and buys as much Duck, Duck Beer as they possibly can," Fleck said.
"After the Iowa game last year, I wanted one more shot at it. I wanted to get one more shot with my brothers at the season, at this game," senior safety Tyler Nubin said. "Playing here in Kinnick Stadium, it's a special place to play in. I told them this is like a road to glory game, you get this on NCAA Football, this is a moment you dream of. I couldn't pass that up."
Minnesota's scoring consisted of four Dragan Kesich field goals. The last of those kicks, a 31-yarder with 8:33 to play, was the difference.
The defense shut out the Hawkeyes in the second half after Minnesota trailed 10-3 at the break. The Gophers had 97 total yards in the third quarter, while Iowa had -3. Minnesota's defense had four sacks, six tackles for loss and held Iowa to 4-fof-15 on third down. The Hawkeyes had just 127 total yards. Hill finished 10-of-28 passing for 116 yards, one interception and lost two fumbles.
The Gophers forced three Iowa turnovers on the day, but Minnesota managed just three points off them as there is still a lot to fix offensively. Athan Kalikamanis had just eight passing yards in the first half. He finished 10-of-25 for 126 yards. Darius Taylor and Zach Evans combined for 26 carries and 103 yards.
They got the win, but it doesn't mask some of the offensive struggles. Minnesota got the ball in Iowa territory in the second quarter after Devon Williams forced a Hill fumble that Nubin recovered. The offense did nothing with it, and Kesich missed a field goal. With the ball and a chance to close out the game in the fourth quarter with a first down, Fleck had three plays that resulted in a short run, incomplete pass and short run. The Gophers punted, setting up the DeJean controversy.
The Gophers were also just 4-of-18 on third down. Minnesota's only blemish defensively came on Iowa's only offensive touchdown of the day. Hill scored on a 1-yard sneak on a drive that featured four Gophers' penalties.
The bottom line is Fleck gets his first win over Iowa, Floyd of Rosedale is coming to Minnesota and an eight-game losing streak against the Hawkeyes is over. Fleck embraced Gophers' AD Mark Coyle and several players on the field after while the celebration with the 98-pound pig was in full force. Chris Autman-Bell stood on the field, soaked in the moment and was overcome with emotion.
Minnesota natives playing for Fleck have waited for this day for six long, often painful years.
"Playing with emotion for six years, it just made today so special. I don't know if people really understand how much it meant to the state of Minnesota and the players who have played here under Coach Fleck and built this place to what it has been today," center Nathan Boe said.