Minnesota-Duluth playing for NCAA hockey championship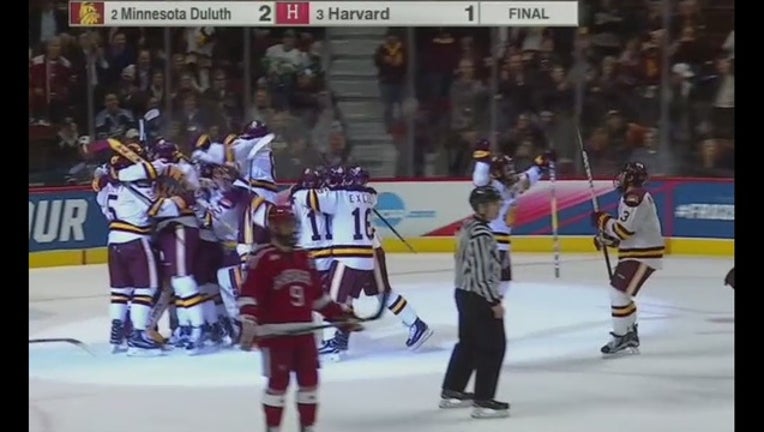 article
(KMSP) - The University of Minnesota-Duluth Bulldogs are playing for the NCAA hockey championship Saturday night in Chicago. UMD defeated Harvard 2-1 Thursday night in the Frozen Four semifinal to advance to the title game.
Friday morning, the Bulldogs received the congratulations of Minnesota Gov. Mark Dayton.
"They made things doubly sweet by beating Harvard," Dayton said.
It's been a nail-biting path to the championship game from UMD, with the Bulldogs needing sudden death overtime wins in their first two NCAA tournament games. Thursday night's faceoff with Harvard appeared to be headed to another overtime, but senior left winger Alex Iafallo scored the game-winner with 26.6 seconds remaining.
"We kept the puck in at the blue line and that was pretty much the key to the goal," said Iafallo. "Willie made a good play -- we run that in practice all the time. We got the puck to the net and I was able to shovel it in."
Harvard entered the NCAA tournament as the No. 3 overall seed, riding a 16-game winning streak. UMD is the No. 2 seed. The Bulldogs have now won 8 straight games.
"It's a great experience for our guys and our fans to stay around two more days and play for the national title" said UMD head coach Scott Sandelin. "Even if we would have lost tonight, I'd still be proud of our team. They are a special group."