Minnesota Aurora FC falls to South Georgia 2-1 in extra time in USL W title game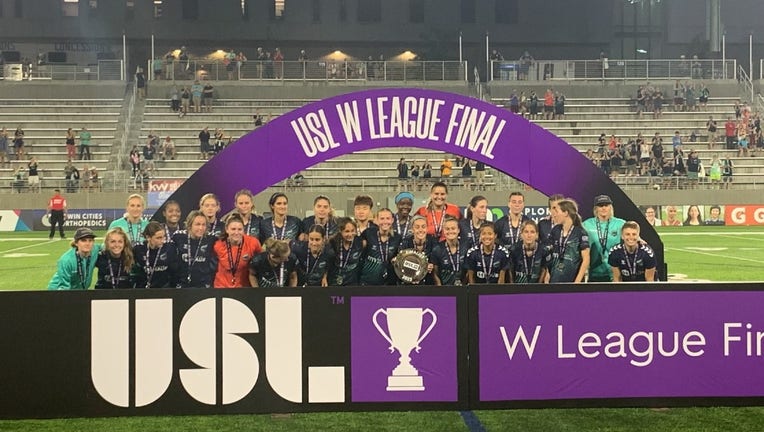 article
MINNEAPOLIS - Minnesota Aurora FC couldn't have written a much better script for its first season in pre-professional soccer in the USL W.
They won 13 straight games, won two playoff games and played for a championship Saturday night in front of 6,498 fans at TCO Stadium. It was their sixth sellout of the season, and the only thing they didn't get was to finish with a championship. Regulation wasn't enough time to determine the USL W title. Nearly 25 minutes into overtime, South Georgia Tormenta FC scored the eventual game-winner in a scrum after a corner kick to get a 2-1 win over Minnesota Aurora.
The team's only loss of the season came in the title game match.
"We have a lot to be proud of. Initial takeaway? This sucks, but we'll be back July 22, 2023," Minnesota Aurora coach Nicole Lukic said after the loss.
"This is the proudest I've been being second place. It's not just the second place that matters, it's what this team has built, what this community has built and what it's going to become. It's already incredible," goalkeeper Sarah Fuller said.
Lukic felt Minnesota Aurora came out flat, and it proved costly as Tormenta FC scored in the eighth minute to take a 1-0 lead. Off a free kick, Camryn Scully sent a header to Jaida Nyby, who beat Fuller for the goal.
That woke up the Aurora, and they got the equalizer 14 minutes later. Addison Symonds sent a long laser of a shot past a diving Sydney Martinez in the 22nd minute, and the two teams were tied 1-1 at the half.
"To see Addy hit an absolute banger just brought a real smile to everybody's face. She's been very close in a lot of other games, so to see her finally put one in like that, it was a special moment for the team," Lukic said.
Despite several chances in the second half, the game went to extra time at a 1-1 tie. Minnesota Aurora thought the game might be won in the second 15 minutes, as Tormenta FC was called for a hand ball in the penalty area.
Morgan Turner, one of the team's top scorers, got the penalty kick. But Martinez came up with the save before another shot from the far post went just wide. Martinez was named the title game MVP.
"Hats off to their goalkeeper, she had an incredible game. She kept them in it, that was the difference," Lukic said.
A few minutes later, Tormenta FC got the game-winner. A corner kick was initially cleared and Fuller made a save on a point-blank shot, but in the fury of trying to clear the ball, Tormenta got a shot in the corner of the net for what turned out to be the game-winner.
"I felt like it was going out. It bounced and hit in the side netting. It is what it is, unfortunate." Fuller said.
It was Minnesota Aurora FC's first loss of the season, and it came with the USL W title on the line. A team put together by more than 3,000 local investors, contributing a combined $1 million, played its first 14 games without a loss.
Fans filled TCO Stadium, showing women's soccer is alive and well in the Twin Cities. Some players will play for their college in the fall, while others will start to pursue pro careers.
"I'm so proud of everything that this team did. I'm happy with how this whole season looked and I want people to know, don't just look at this game. This was a great game, but look at this whole season," Fuller said. "Look at what has been built, look at all the fans, look at what the USL W has become. That's what matters here is that we've built something that will continue on for years to come."
Minnesota Aurora FC finishes its first season 13-1-1, and winners of the Heartland Division.
"What we've done this year is bigger than winning or losing this game, we changed the landscape in soccer with all of our wonderful fans and the community here," Lukic said. "We've set the bar really high, and we're excited that we've made our mark. This is just the beginning for Minnesota Aurora FC."