'Merry Christmas to us': Gophers prep for bowl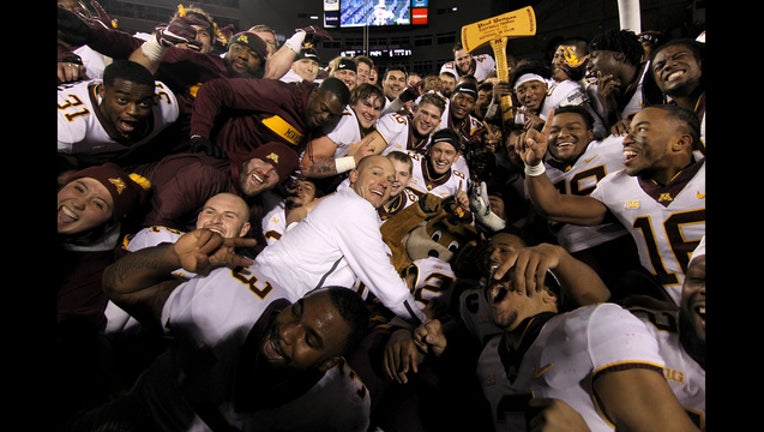 MINNEAPOLIS (FOX 9) - Consider it the 15 days of Christmas for the University of Minnesota football team.
While most of us are shopping, baking cookies and getting ready for family get-togethers, the Gophers are getting ready to hop on a plane for Detroit to play Georgia Tech in the Quick Lane Bowl on Dec. 26. It's the first bowl appearance for Minnesota under second-year coach PJ Fleck.
The Gophers earned bowl eligibility after beating rival Wisconsin, in Madison, 37-15 in the regular season finale to finish 6-6. It was the first time in 14 seasons Minnesota had beaten Wisconsin, and first time it had been done at Camp Randall since 1994.
The reward is 15 extra practices before heading to Detroit.
"I'm excited we're in a bowl game. I'm excited we're in the Quick Lane Bowl, excited we get to go to Detroit and spend Christmas at a bowl site," Fleck said. "Those are things we can never take for granted, and I don't want to take them for granted. Every bowl is an elite bowl."
For the players, it means an extra 15 practices. It's a time to develop, get better every day and it can serve as a springboard to spring football.
"It's really exciting for us to get extra practices. You can say what you want about practice, but we love practice. Our practices are fun and efficient. We love practice, Merry Christmas to us," linebacker Thomas Barber said.
The Gophers are back in a bowl game for the second time in three years. They beat Washington State in the 2016 Holiday Bowl, 17-12. Fleck was hired to replace Tracy Claeys shortly after.
Redshirt freshman quarterback Tanner Morgan played in Minnesota's final eight games after Zack Annexstad went down with ankle and chest injuries. Morgan finished the regular season completing 59 percent of his passes for more than 1,200 yards and seven touchdowns.
The Gophers enter the Quick Lane Bowl leading the Big 10 and being ranked No. 16 nationally in yards per completion at 14.1 They have 26 catches of at least 25 yards. Tyler Johnson leads the group with 13, Rashod Bateman has seven and Chris Autman-Bell has four.
Morgan credited his offensive line for time in the pocket, and the receivers for making big plays.
"They can make incredible plays when you just give them a chance, and that's really made the difference," Morgan said.
The season turned for the Gophers when Joe Rossi took over as defensive coordinator. Robb Smith was fired after Minnesota's 55-31 loss at Illinois. The Gophers went 2-1 in their final three games, including beating Purdue 41-10 and the Wisconsin victory.
The Gophers limited Purdue to 233 total yards. Wisconsin managed only one touchdown off Minnesota's first-team defense. After beating the Badgers, Rossi got the last game ball in the locker room celebration. He was also promoted to permanent defensive coordinator.
'It was something I won't forget. It was pretty special, it's an honor. Just the opportunity to be around our guys and be in the front of the room, that's something you don't take lightly," Rossi said.
He has the task of preparing the Gophers' defense to face the Georgia Tech triple option offense. The Yellow Jackets finished the season 7-5, 5-3 in the ACC. They beat Virginia Tech, North Carolina, Miami and Virginia before losing to rival Georgia to end the season.
Georgia Tech leads the nation in rushing with nearly 335 yards per game on average. The Yellow Jackets have rushed for at least 400 yards in five games this season, and eight different players have at least 100 rushing yards.
They're led by quarterback TaQuon Marshall's 896 yards and 11 touchdowns. Redshirt freshman quarterback Tobias Oliver has 807 rushing yards and 12 touchdowns. The Yellow Jackets are averaging more than 35 points per game on the season and more than 419 yards of total offense per game.
The Gophers will need to be disciplined and stay in their gaps defensively against the triple option.
"You can't worry about someone else's job. You've got to worry about your job because the second you start looking to do someone else's job, that's when you give up a play," Rossi said.
The Gophers view the Quick Lane Bowl as their reward for getting to six wins this season. It's an improvement from last year's 5-7 finish, but the last three games and what they hope to be a bowl victory that could give them offseason momentum.
"We're always excited to get extra games in the season. Coach Fleck always says it's hard winning games in college football and in the Big Ten in general. We've got to realize that and just be proud of what we've accomplished," Barber said.