Loons' Reynoso talks publicly about 4-month absence from Minnesota United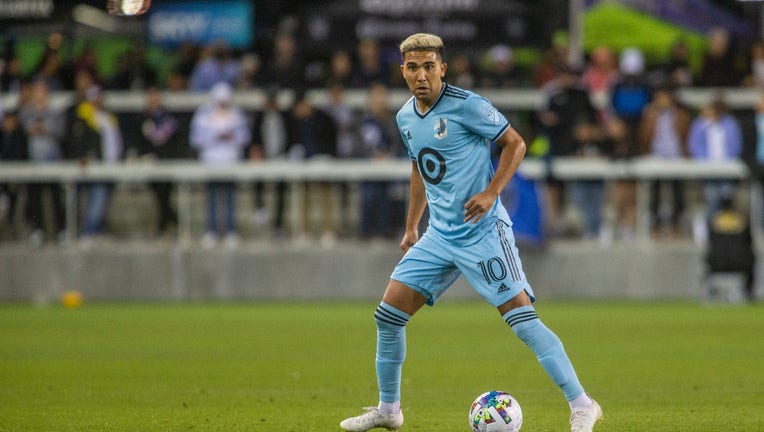 article
MINNEAPOLIS (FOX 9) - Minnesota United midfielder Emanuel Reynoso missed the first 15 games and four months of the Major League Soccer season. He explained why for the first time publicly after the team's training session on Tuesday.
In what the Loons had called a "personal matter" from the beginning, Reynoso had to attend to a family issue involving his 4-year-old daughter back home in Argentina. Reynoso failed to show up to the Loons' preseason training in January, and was suspended without pay in February.
He came to the Twin Cities in May, and shortly after had his suspension lifted. His family remains back in Argentina.
"They're not here. But thank the Lord my daughter and my family are well, which is very important, that they're doing well and I can be happy and content in Minnesota. I still have the support from family," Reynoso said.
Reynoso made similar comments in a statement issued through the team on video via social media shortly after his return. He's ready to put the matter in the past.
Adrian Heath said Reynoso has been the consummate professional since arriving in Minnesota. The two had a lengthy chat when he got into town, and Reynoso apologized to his teammates before he took the field with them for training.
"A lot's been said that he didn't turn up in time, but what I can say is his attitude since he has been back has been absolutely first class. Intensity in every session he's done, he looks great physically. He put himself in a position where we could start him this weekend if we wanted," Heath said.
Reynoso said it was never a possibility that he would miss the entire 2022 MLS season.
"It's great to play here in Minnesota with all the people who support me and all my teammates who support me. Thank God that I'm back where I'm very happy," Reynoso said.
He also put to bed reports that he was involved in an assault of a teenage boy with a gun in 2021. His absence to start this season was unrelated.
"I'm here because everything was solved. For over a year now, that was something that was able to be solved. Always grateful to the club that also supported me, my agent who did a great job so that we were able to solve that issue," Reynoso said.
One of the Loons' key pieces in the middle, Reynoso has played the last two games in a reserve role. He could make his first start of the 2023 season for Minnesota United this weekend.
It hasn't been the start the Loons had in mind for 2023. They're 5-7-5, 11th in the West at 20 points and a glaring 1-1-5 at Allianz Field this season.
"We have to do better than we've done in the first half of the season. I think the most important thing for us is to get back making Allianz the fortress that it's been since the stadium has been open," Heath said.
LOONS SHOW SUPPORT FOR MICHAEL BOXALL
Michael Boxall is away from Minnesota United playing for New Zealand, but was the victim of racial abuse during a match on Monday against Qatar in Austria. The national team did not come out for the second half after game officials didn't take any disciplinary action against the Qatar player in question.
Heath said he spoke with Boxall after the match.
"There can't be a more consummate professional. He's just a great guy, a great professional, so he'll have all our support," Heath said. "Knowing Boxy and the way he is, he just said it's something he wished wouldn't have happened and we move on."