Kent State coach vows female kicker will play this season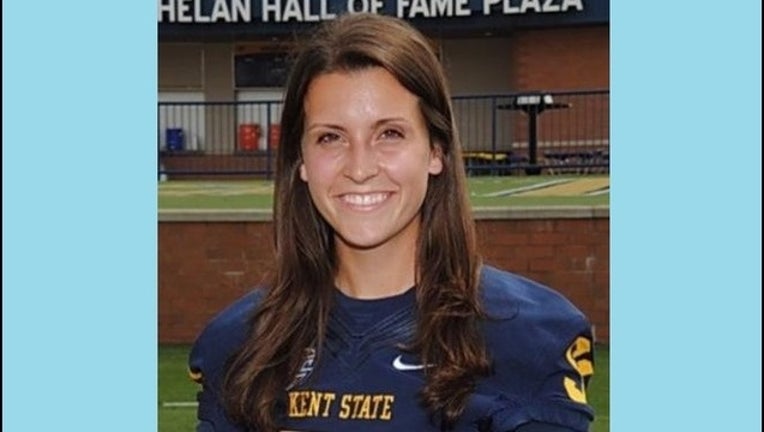 article
CHAMPAIGN, Ill. (AP) - Kent State's April Goss is a rarity - a woman on a Division I college football roster. By the end of this season, she could accomplish something even rarer if she gets the chance to play in a game.
"Before this year's out, she'll get out there. I promise you that," Kent State coach Paul Haynes said Saturday after his team's 52-3 loss at Illinois.
"That's something that I've been hoping for a while now," Goss said. "It's just all about being patient."
And she has been.
This is Goss' fourth season on the Golden Flash roster. Like most walk-ons, the odds of her getting into any particular game are slim. The closest she came was kicking the game-winning extra point in the 2014 spring game.
There have been a handful of women on Division I rosters, among them Katie Hnida, who kicked a pair of extra points for New Mexico in 2003. She was the first woman to score in a major college game. How many women who have played or scored in a game isn't a stat that's commonly tracked. But according to STATS LLC, Goss appears to be the only woman currently on a Division I roster.
Haynes says she's earned that place.
"She works her tail off. She's the first one out there in practice and the last one off the field," he said. "Every time someone gets up and talks, one of our players gets up and talks, they always talk about they've got brothers, and a sister."
Like many kickers, her background was in soccer. But as a high school junior in Aliquippa, Pennsylvania, Goss decided she wanted to play football. She can't quite explain why. She didn't have older brothers to follow to the football field, or a parent pushing to make it happen. Kim and Craig Goss were initially horrified, she said.
"They were like, 'Please, no.'" she said. "It was more of safety concern than anything. It broke my heart when they were like, 'Don't.'"
But she did, playing her junior and senior seasons, kicking extra points. When it was over, she wasn't ready to stop.
"So in college, they were like, 'If you can make it, go for it," Goss said.
There have been logistical challenges. After Saturday's loss, Goss' teammates filed straight from the locker room into buses parked inside Memorial Stadium for the trip to the airport. She crossed an alley outside the stadium after walking out of the nearby campus recreation center, which served as her locker room.
She hasn't traveled with the team much; this was just her third road game in four seasons. But she's seen much worse locker room arrangements in high school.
"It was more like just changing in a bathroom, wherever they could find space," she said.
At 5-6 and 134 pounds, Goss is considerably smaller than the other punters and kickers. Her leg strength can't match her teammates.
While she has kicked out to near 40 yards in practice, her automatic distance is more from the 10-yard line. That makes it hard to get her into a game, Haynes said.
Kent State is coming off a two-win season and was dominated in its opener by an Illinois team few expect to be strong. The easiest game ahead for the Golden Flashes might be the next one, Saturday at home against Delaware State, a Football Championship Subdivision school.
The coach isn't committing to play her in any particular game. And so Goss will continue to be patient, waiting for her chance to play.