How to watch Minnesota Vikings vs. New York Giants on Sunday, Jan. 15
MINNEAPOLIS (FOX 9) - The Minnesota Vikings will host the No. 6 seed New York Giants this weekend in the Wild Card Playoffs at U.S. Bank Stadium. 
The Vikings finished the regular season 13-4 after beating the Chicago Bears on Sunday and are the No. 3 seed for the NFC Playoffs. Sunday will mark the second time this season the Vikings will play the Giants. Back on Christmas Eve, the Vikings needed a franchise-record and career-long 61-yard field goal from Greg Joseph as time expired for a 27-24 win over the Giants.
REALTED: How to watch Vikings Live: Wild Card Week on FOX 9
It was one of 11 wins for the Vikings that either came down to the final play, or was a one-score game in the fourth quarter. Justin Jefferson, who had 12 catches for 133 yards in the win, caught a 17-yard touchdown pass from Kirk Cousins with three minutes to play to give the Vikings a 24-16 lead. The Giants answered with a 27-yard touchdown run on a 4th-and-2 play from Saquon Barkley with 2:01 to play, and got a game-tying two-point conversion.
Cousins finished that game 34-of-48 for 299 yards and three touchdowns. Two of the three scores went to T.J. Hockenson, who had a career-high 13 catches for 109 yards.
The Vikings and Giants also have some previous playoff history, something Minnesota fans would like to forget. The Vikings went to the Meadowlands for the NFC Championship Game in 2000, and as slight betting favorites, proceeded to lose 41-0.
Many current Vikings' players haven't played in a playoff game, and Cousins has one postseason win in five seasons with the Vikings, in the 2020 Wild Card Playoffs at New Orleans.
Sunday will mark the first home playoff game at U.S. Bank Stadium since the "Minneapolis Miracle," when Case Keenum hit Stefon Diggs for a walk-off touchdown in the NFC Divisional Playoffs. 
What time does the Vikings-Giants game start?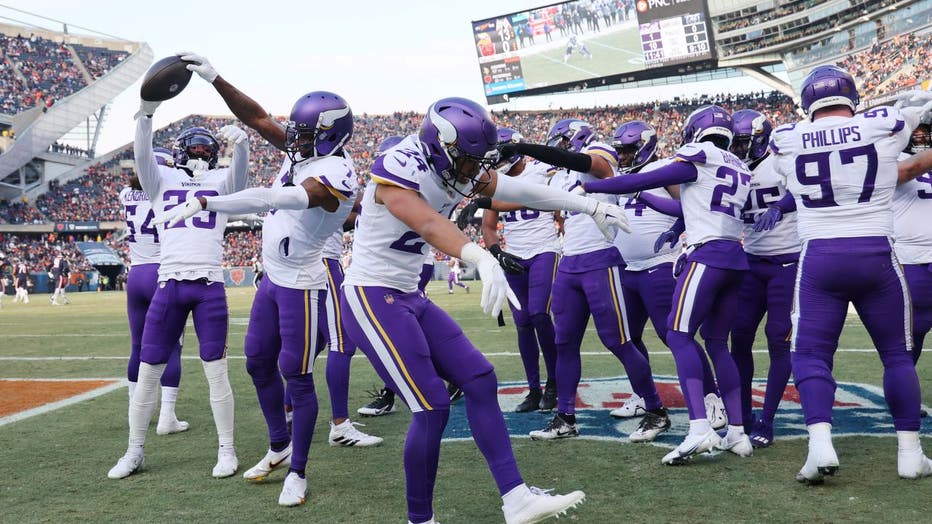 The Minnesota Vikings celebrate an interception in the second quarter of a game against the Chicago Bears at Soldier Field on January 08, 2023 in Chicago, Illinois. (Photo by Michael Reaves/Getty Images)
What: Minnesota Vikings vs. New York Giants
When: Kickoff is at 3:30 p.m. on Sunday, Jan. 15
Where: U.S. Bank Stadium in Minneapolis
How can I watch the Vikings game? 
Watch the game on FOX 9
Stream the game on FOX Sports
Stay with Fox 9 for more Vikings coverage throughout the week and up to kickoff. You can watch Sunday's game at 3:30 p.m. on 
FOX 9. And before the game, catch Vikings Gameday Live on FOX 9 from 1-3 p.m. on Sunday.