Hill-Murray sues MSHSL to stay in state hockey tournament, judge dismisses case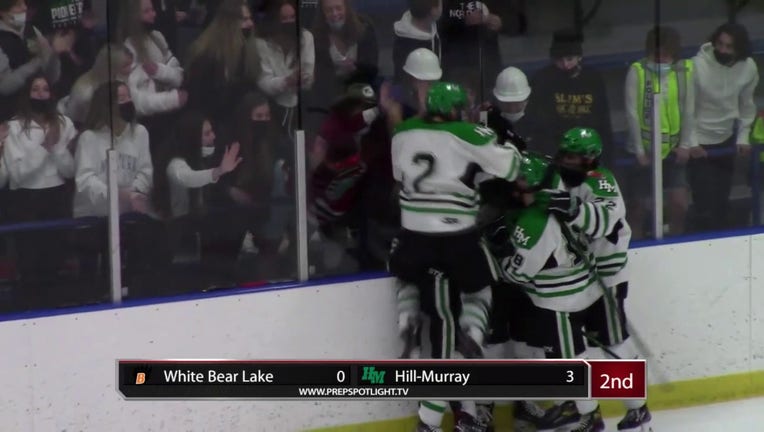 article
MINNEAPOLIS - The Hill-Murray boys high school hockey team has been informed it will not be able to play its quarterfinal state tournament game Wednesday after a member of their opponent in the section finals tested positive for COVID-19 after the game.
According to a letter jointly submitted to the players by Hill-Murray School's president and activities director, school representatives met with members of the state health department numerous times and carefully reviewed video of the March 24 section championship game. Their video analysis showed none of the Hill-Murray players had close contact with the player in question for more than a few seconds during the game.
The state's department of health cleared the team to play Wednesday's game against Wayzata on Thursday, putting them outside the 7-day mandatory quarantine. Wayzata also agreed to those terms.
However, the Minnesota State High School League denied the request. The Pioneers were the No. 2 seed for the state tournament, but are now out and Wayzata will automatically advance to the state semifinals.
In the letter, the Hill-Muray school president and athletic director said:
Although we remain a proud member of the MSHSL, we are deeply saddened by this outcome. We know how important the state tournament experience is for our hockey players. They've worked extremely hard and have dreamed about this moment all their lives.
Hill-Murray players file lawsuit against MSHSL
After learning of their fate, nine members of the Hill-Murray team filed a lawsuit in Washington County District Court, which was dismissed by a judge Tuesday afternoon.
An attorney representing one or more of the athletes said they are "considering all of their options and remain as determined as ever to participate in the Minnesota High School Tournament."
The attorneys for the athletes say they are "beyond words" as to how wrong the judge's decision was. The order shows the judge denied the motion because she claimed notice was not given to the MSHSL, which the attorneys refuted. Also, the judge said it was "unclear" whether the suit belonged in Washington County. 
To this point, no Hill-Murray players have experience symptoms associated with COVID-19.
Hill-Murray filed the lawsuit to prevent having to forfeit Wednesday's game. The Pioneers are the defending Class AA state champions.