Hectic stretch for Wild starts at Buffalo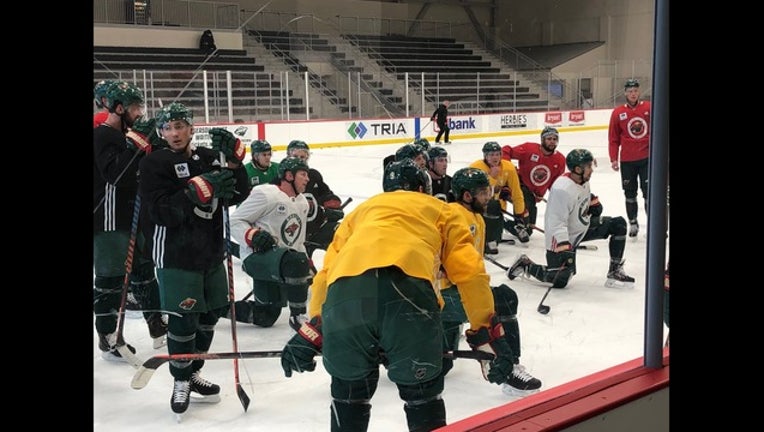 MINNEAPOLIS (FOX 9) - It's no secret that the Minnesota Wild had a busy stretch coming out of its bye week.
The Wild started 14 games over a 26-day period with a 3-1 loss at Dallas last Friday. They looked like a team that hadn't played a game in more than a week. The Wild returned to St. Paul Saturday and managed to get a point in a 4-3 overtime loss to the Chicago Blackhawks at Xcel Energy Center.
Two games into the grueling stretch, the Wild is seventh in the Western Conference with 56 points and two points clear of the No. 8 spot. They're four points out of the No. 6 spot and six out of the fifth spot.
But the busy stretch starts Tuesday night as the Wild is out east to face the Buffalo Sabres. It's the first of four games over six days, with three out of four on the road.
It's an important game for both teams, with the Sabres currently ninth in the Eastern Conference and three points out of playoff spot.
"We'd sure like to get ahead by winning the first game of week. You don't want to have to chase the game, we want to get ahead and be ahead of it," Wild coach Bruce Boudreau said.
Wild General Manager Paul Fenton shook up the roster with a series of trades as the team was coming out of its time off. More changes came earlier this week as Nate Prosser and J.T. Brown were placed on waivers. In 15 games this year, Prosser didn't have a goal or an assist. Brown had played in 35 games for the Wild, scoring one goal and recording three assists.
It's the business of the NHL.
"Everybody knows that this is a business and this is just how it works," center Eric Staal said. "Quality players and people, and we'll just get back to work and do what we do and that's focus on tomorrow."
To replace Prosser and Brown, the Wild recalled Kyle Rau and Luke Kunin in time for Tuesday's game at Buffalo. Rau said Monday he had no idea a call-up was on the horizon until being pulled aside by his head coach after the Iowa Wild's most recent game.
The Eden Prairie alum and former Gophers star will do whatever he can with his opportunity.
"You never know how long your opportunity is going to be so take advantage of it right from the first shift and just go from there," Rau said.
In 36 career games, Rau has two goals and two assists. He played three games with the Wild last season, notching one assist. In 21 games with the Wild this season, Kunin has one goal and four assists.
The opportunity is there for the Wild to earn points in the next four games, despite a busy stretch. Of the next four opponents, only the New York Islanders are currently a playoff team.
"It's a huge week and Bruce has been preaching that, especially (Monday). Buffalo is really important to come out with a win and especially just try to start the week off right," defensemen Nick Seeler said.
It's a big stretch, especially with four straight home games after the Feb. 10 game at the Islanders. Then, six games in a 10-day stretch to end February.
"We know what we're up against here. We've got a big week against teams that are kind of fighting as well. We'll try and come away with the points in Buffalo," Staal said. "If we can have a big week, I think it will put ourselves in a good spot but at the same time we know there's a lot of hockey left and we know that it's going to be a dog fight right to the end."