Gophers lose 2021 opener 45-31 to Ohio State, Mo Ibrahim to injury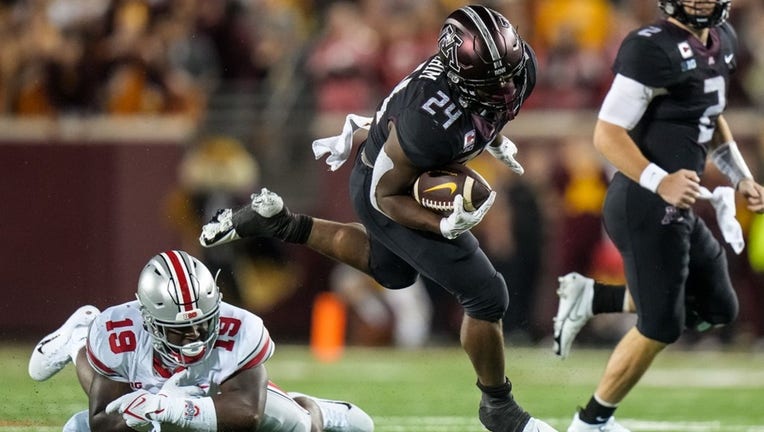 article
MINNEAPOLIS - The University of Minnesota football team welcomed more than 50,000 fans back for the first time in nearly two years to Huntington Bank Stadium Thursday, but the Gophers couldn't finish the night with an upset of No. 4-ranked Ohio State.
Redshirt freshman quarterback C.J. Stroud wasn't perfect for the Buckeyes, but he made big plays when he had to. In his first college start, Stroud threw for 294 yards and four touchdowns in a 45-31 win over the Gophers. After the loss, Gophers' coach P.J. Fleck started his postgame press conference by thanking everyone who was at the game, from fans to media to workers. For the first time in almost two years, a college football game felt normal again.
"Results aside for one minute, that's the power of football. That is what the world should look like, that atmosphere was special. It's just really good to have football back," Fleck said. "We've got to be better, we didn't play well enough to beat the No. 4 team in the country tonight. We've got a lot to learn from and we will."
It was the Gophers' third straight sellout, dating back to the end of 2019 against Penn State and Wisconsin. 
"It was fun, it felt really good to feel the energy, feel the juice from our fans and I hope it's like that every single game," quarterback Tanner Morgan said.
Aside from being 0-1, most concerning for Fleck and the Gophers now is the health of star running back Mo Ibrahim.
Ibrahim had 30 carries for 163 yards and two touchdowns before leaving the game near the end of the third quarter with a left leg injury. After a long time in the injury tent, Ibrahim left the field with a trainer and had a walking boot on his left leg. He did not return, and Fleck didn't have an update on him after the game. The initial fear is a calf or Achilles injury.
"Whatever it is, we're going to row as a football team. I was just with Mo, big smile on his face. That's Mo, that's why I think he's the best back in the country," Fleck said. "Whatever it is, we'll figure it out and we'll row. Hopefully it's nothing major, but we don't know that just yet."
It was in the middle of a disastrous sequence for the Gophers. With a 21-17 lead in the third quarter, Ohio State got two touchdowns in less than three minutes to take a 31-21 lead, and Ibrahim in the injury tent. Stroud hit Garrett Wilson for a 56-yard touchdown over Calvin Swenson in coverage, and Tanner Morgan got strip sacked, fumbled and Haskell Garrett returned it 32 yards for a Buckeyes' touchdown.
On that play, Dylan Wright was breaking open for a potentially big play that the Gophers needed.
"Dylan ran a great route, great call, they made a good play. At the end of the day, I've got to feel that. That can't happen, that's nobody's fault but mine. Putting the ball on the ground is never acceptable," Morgan said.
For one night, the Gophers had the national stage and a lead into the second half on the No. 4-ranked team in the country. That's without leading receiver Chris Autman-Bell, who went through pregame warm-ups but did not play due to a leg injury suffered during fall camp.
Other than Ibrahim getting hurt, the story of the night was the Gophers' defense giving up too many big plays. The Buckeyes piled up 495 total yards and averaged more than 10 yards per play. Ohio State scored five offensive touchdowns, and they all came on plays of more than 30 yards.
Four of their five touchdowns went for at least 50 yards, two went for at least 70. Miyan Williams scored on a 71-yard run, star Chris Olave had scores of 38 and 61 yards, Garrett Wilson had a 56-yard touchdown catch and TreVeyon Henderson scored on a 70-yard pass.
"There's a very small margin for error when you're going up against an opponent like that. Very small margin for error and any slip up, they're going to take advantage of. We've just got to clean up the small things," linebacker Mariano Sori-Marin said.
Ohio State is now 16-0 in Big Ten play under Ryan Day, and showed why they came into the season ranked No. 4 in the nation.
"That's what they do, they make you pick. We were a little exposed at times, and it's unfortunate but that's why they are who they are," Fleck said.
Dylan Wright was Minnesota's other spark offensively. He finished with five catches for 57 yards and a touchdown. Morgan finished the night 14-of-25 for 205 yards.
The luxury now for the Gophers is there's 11 more games to play, and now they have three non-conference games before getting back into Big Ten action. Minnesota hosts Miami (Ohio) next Saturday.
"That's the first race of the year. We got a flat tire on the back stretch, but at the end of the day there's a long season ahead of us and there's still a race for the cup," Fleck said.