Gophers Tyler Nubin named Reece's Senior Bowl Defensive Player of the Week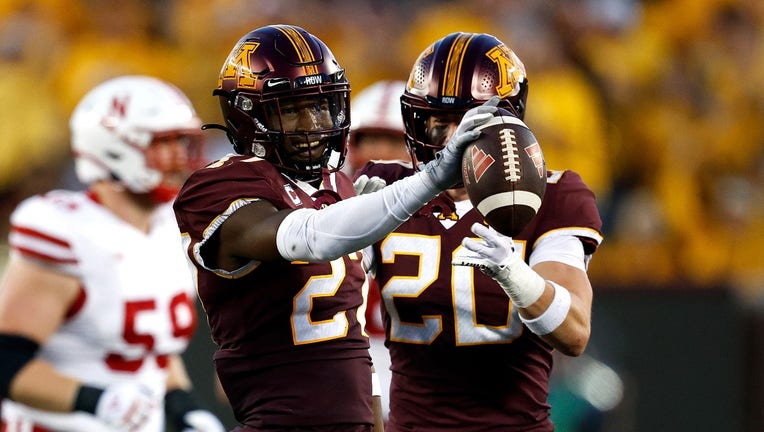 article
MINNEAPOLIS (FOX 9) - University of Minnesota senior safety Tyler Nubin is receiving national recognition after the Gophers opened the 2023 season with a 13-10 win over Nebraska last Thursday night at Huntington Bank Stadium.
Nubin was named the Reece's Senior Bowl Defensive Player of the Week. He had three tackles, two solo tackles and two huge interceptions in Minnesota's win. His second interception came after the Gophers had scored the game-tying touchdown with 2:32 to play, and set up a game-winning field goal as time expired for Dragan Kesich.
Nubin had two of the three interceptions thrown by Cornhuskers' quarterback Jeff Sims, a transfer out of Georgia Tech. After the win, Nubin gave credit to both Fox play-by-play announcer Gus Johnson, and Gophers' radio play-by-play man Mike Grimm, who told him before the game he'd have two interceptions.
Nubin jumped a route with about a minute left in regulation as Sims stared down a receiver in the middle of the field, and made the huge play to set up the field goal.
"It meant everything, man. This is what I came back for. It's always been a dream of mine to make a play and have Gus Johnson's high-pitched voice on the TV screen. I'm going to definitely have to watch that one back. It means the world," Nubin said.
Nubin could've declared for the NFL Draft after last season, but opted to come back for a fifth season at Minnesota. He entered Thursday's game with eight interceptions in 43 career games.
His goal is to now lead the Gophers to a Big Ten West title, and be a top-100 pick in next April's NFL Draft.